Susty Person of the Month – Mr Segun Adaju
Segun Adaju is the Chief Energizing Officer, Consistent Energy Limited, a leading rooftop solar company in Nigeria that is driving a solar revolution with its finance and leasing schemes through the rent-to-own business model.
A graduate of the University of Lagos with B.Sc Economics and MBA degrees who has also attended executive programmes of leading institutions such as Harvard Business School, MIT/Sloan School of Management, Frankfurt School of Management, Renewables Academy Berlin, Lagos Business School and others.
Segun is also the Lead Consultant of BlueOcean Nigeria, a company that has provided extensive expert/consulting services to organizations such as Ministry of Power, Ministry of Environment, UNDP, BOI, World Bank, African Development Bank, CBN, USAID/Winrock International, DfID Solar Nigeria Programme, NIAF, EU, Oxfam, Global Alliance for Clean Cookstoves, Hienrich Boll Foundation, GIZ, EcoBank etc. He is on the team of consultants that developed the sectoral plans for Nigeria's NDC and Investment Prospectus under the SE4ALL initiative.
Prior to this, Segun had close to 2 decades of banking experience in Nigeria spanning retail, commercial and microfinance. He is the President, Renewable Energy Association of Nigeria (REAN) and recently elected as Chairman, Task Force on Energy at the D-8 Ministerial on Industrial Cooperation comprising of 8 developing countries of Bangladesh, Egypt, Indonesia, Iran, Malaysia, Nigeria, Turkey and Pakistan.
Read our interview with Mr Segun Adaju below:
We would like to know about Consistent Energy and the Consistent Energy Solar Direct Program.
Consistent Energy Limited was incorporated in January 2015 with a mission to provide affordable, reliable and clean energy for small businesses especially for productive uses. With the huge energy deficiency in the country and the impact on productivity and growth, the company launched its SolarDirect scheme to take advantage of the huge opportunities that exists in Nigeria for productive uses of renewable energy.
Consistent Energy is the brand owner of SolarDirect which is registered in Nigeria with the vision of being the leading solar energy finance and leasing company through the adoption of the rent-to-own or pay-as-you-go solar technology. Its focus is on small businesses such as barber shops, salons (mostly run by women), mobile phone charging stations, and market stalls that require energy for productive uses but currently operate petrol generators (popularly known in the country as 'I beta pass my neighbor'. For more details about our work, please see the video link
Our vision is to impact 1 million beneficiaries by year 2030 by displacing these generators and replacing with rooftop, stand-alone solar through the pay-as-you-go business model.
Many renewable energy experts are of the opinion that deploying solar projects in rural areas isn't profitable as rural dwellers cannot afford it. Do you share the same sentiment?
I do not agree with that notion as my experience in the field has shown a different scenario. Rural dwellers currently spend more for energy in the long run when they purchase kerosene for their lanterns and fuel for small generators. My company has proven over time through our pilot projects that adopting the use of a solar lantern is more affordable, reliable and cheaper than kerosene lanterns. If we also deploy larger solutions especially for productive uses, it becomes further increases the capacity to pay.
Kindly tell us a bit about the Renewable Energy Association of Nigeria (REAN) and your role there.
The Renewable Energy Association of Nigeria (REAN) is an independent, non-profit industry association founded by stakeholders in Nigeria's Renewable Energy sector. The association is focused on promoting the growth and development of the industry in Nigeria by engaging with the public and private sector to guide advocacy, policy formulation and investment in the sector.
REAN's vision is "to promote strategies that will improve the contribution of renewable energy up to forty percent (40%) of the National Energy Mix by 2030".
Does REAN advocate about changing people's perception of renewable energy?
One of REAN's key advocacy positions is to tackle the issue of lack of awareness by improving communication and increasing outreach in partnership with organizations that also share the mandate to promote awareness on access to energy and renewable energy. This is with the core objective of changing people's perception of renewable energy.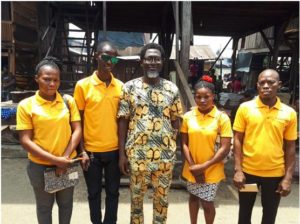 Why is it that most Renewable Energy Companies in Nigeria seem to focus a lot on solar energy alone as a source of renewable energy?
Renewable Energy Association of Nigeria focuses on solar, wind, hydro, biomass and geothermal. However, my company is into rooftop solar as a business. My opinion about the focus on solar is that it has proven to be a matured technology that has been proven globally. Also, it is easy to deploy anywhere there is a good resource of solar irradiation of which Nigeria is one. In addition, it doesn't require any logistics to collect the energy resource unlike biomass or small hydro that is site specific. The price of solar panels has also been on a downward trend which is creating more affordability.
What would be your reaction if the Federal Government of Nigeria decides to subsidize renewable energy projects?
I am not an advocate of subsidy of any form as it tends to distort the market and also can be bedeviled by corruption. What I support is to create a level playing field for all energy technologies. Why subsidize fossil fuel and not renewables? Also, I am in support of incentives for renewable energy projects such as custom duty and VAT waivers, pioneer status, tax holidays and others. This will help the market to grow faster.
How does your expansive banking experience help you in hatching business models and financing your projects?
I spent over 2 decades in the banking industry and this has helped my focus in the deploying solar. I see Consistent Energy more as a solar energy leasing and financing company rather than just deploying projects. We started our business by incorporating micro credit model in selling solar to clients such as barbers, phone chargers etc. Today, we are one of the leading pay-as-you-go or rent-to-own solar companies in the country focused at SMEs.
What are some of the biggest challenges that young entrepreneurs looking to go into renewable energy likely to face?
Finance is a major challenge as it restricts the capacity of companies to grow. Others include the low awareness of renewable energy technologies, poor quality standards of some products, lack of incentives for the industry and huge cost of importing products.
What is your favorite SDG and why?
Goal 7: At consistent energy, we provide AFFORDABLE, RELIABLE and CLEAN energy.
How do we contact you if we have questions or enquiries?
SegunAdaju
Chief Energizing Officer
Consistent Energy Limited
73, Ajayi Road, Ogba
Lagos Nigeria
+234 802 420 7468+234 809 393 7266
Email: [email protected], Skype: SegunAdaju