Seun Obadan; Susty Person of the Month, March
Oluwaseun Obadan is very passionate about increasing access to quality education and has turned her passion into a lifetime project known as Club200. She is very driven and stirs youth to take up their power to foster positive impact in their immediate environment.
She has a master's degree in Architecture and has participated in various leadership programs such as (JAN) Junior Achievement Nigeria's 'Venture in Management Program' (VIMP), a mini MBA. She is currently serving her nation as an HR personnel at Unilever Nigeria plc.
Below is our chat with Seun. Enjoy …

To start with, kindly tell us how Club200 evolved.
Our unending problem with the education system in Nigeria is not news, so I wouldn't particularly say it evolved Club200. Finding a sustainable means to get as many youth as possible committed to proffering a possible solution to the problem of our Education sector in Nigeria brought about Club200.
I finished from Caleb University in 2018 – MSc Architecture – and during my stay, I observed how the local community where Caleb University is located constantly churned out semi-illiterates. Although the free public-school system helps a bit, but if 100 students graduate, only about 2% further to the university. This was the problem I took note of, and while I observed this problem in Imota community where Caleb is located, there are many replica cases in various rural communities in Nigeria.
This is the massive problem I observed. I couldn't do this on my own, so I looked for a way to get many youths to see the problem and create a solution through crowd funding.
One of the major challenges facing Nigeria's education sector is funding. From your experience, what strategies do you think can be employed to fund education?
While I use this means to explain the system used in Club200 as a subtle way Nigerian youths can solve the Education problem, it is only but one way.
In Club200, we infuse ourselves into universities as a club, we then create awareness about the education system and then synthesize the students of the school to join in solving the problem of funding in Education by donating 200 Naira weekly that will go into funding the higher/tertiary education of indigent youths in the community where the school is located. We are currently in Caleb University, Lagos and Afe Babalola University, Ado Ekiti. Through this means, we have been able to help further the education of several indigent youths.
However, besides funding, what other challenges can you ascribe to the rot in Nigeria's education system and how do you think they can be addressed?
In as much as I'll like to scream 'our government', and how the standard of education has fallen because of not placing the right systems in place, I'd rather not because I think we know that well enough. We the youths are also a major problem. We have given up on gaining knowledge through education. We live in a microwave generation were everyone wants to get rich quick by any means. The record of drop outs in the school system is increasing daily. We need to preach the good news that through education, one acquires knowledge and knowledge is light. The light that devises a way for our country to come out of its economic rot.
Do you also share the sentiment that Public Private Partnerships (PPP) can be a viable method of effectively managing the education sector in Nigeria?
Yes, I do. A lot of public institutions are currently living on their past glory as private schools are fast rising to take over. Unfortunately, these private schools can only be afforded by a few. Private primary and secondary schools now define the standards of quality education, when in the past it used to be the other way around. The advantages of PPP are vast if looked into, some of which include, improving, and perhaps re-inventing the curriculum, placing strict systems in place that will raise the standard of education and many more advantages. I definitely think PPP should be explored as a method of effectively managing the education sector in Nigeria.
What drives your passion for quality education?
Quality education is the key to building strong economies. In fact, it is the foundation on which strong economies rest upon. I believe it is a basic necessity like water, electricity, etc. I also believe that if our government fails to play their part in making these basic needs available, we must all rise and find innovative ways to pull through or else we have failed as a people.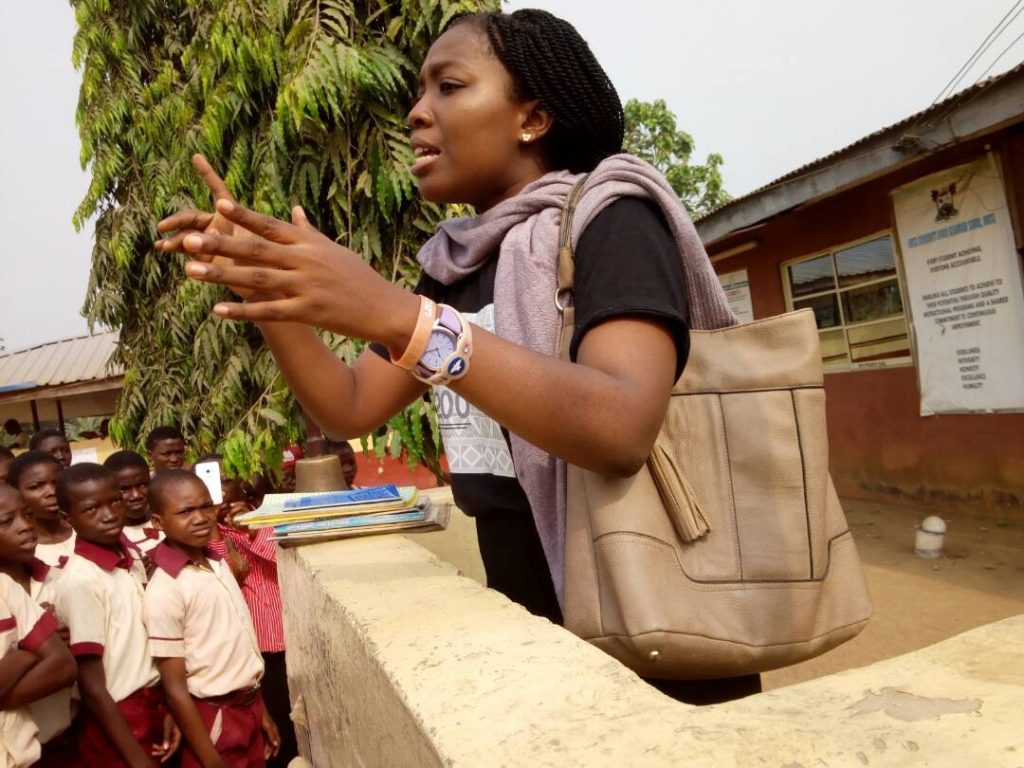 Which is your favorite SDG?
SDG 4; Quality Education.
How do we reach you if we have questions or comments?
My Social media handle is @seun_obadan for both IG and twitter, and my email address is [email protected]
For Club200, our social media platforms are @club200_tn for both IG and twitter and our email address is [email protected]