Goi Remains Uninhabitable – High Chief Eric Bariza-Dooh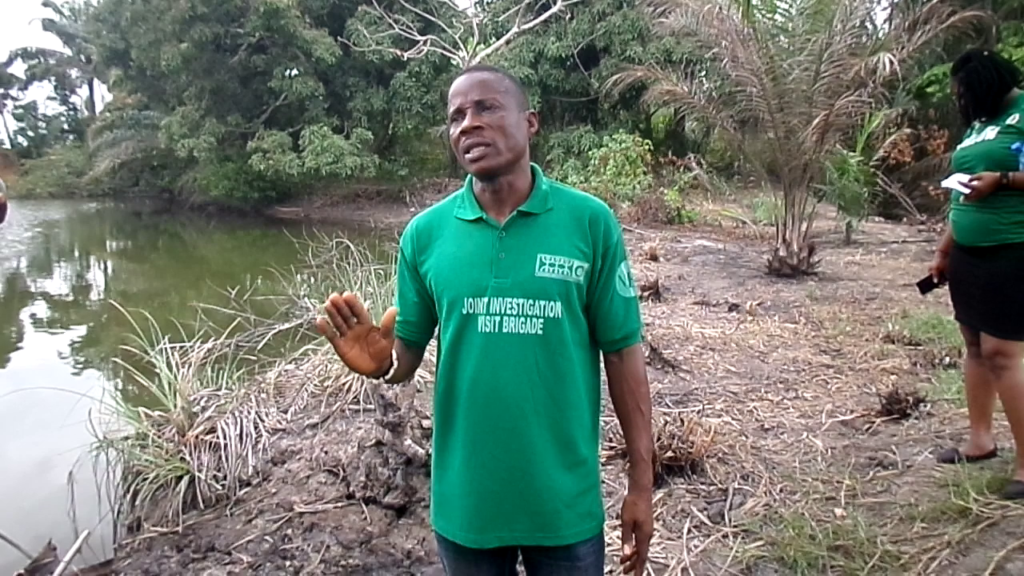 About 6 months ago, we spoke with High Chief Eric Bariza Dooh, the traditional ruler of Goi community in Gokana Local Government Area of Rivers State; a community that has been declared uninhabitable as a result of ecological devastation occasioned by oil pollution.
We recently spoke again with the High Chief who is also a devout environmental activist to follow up on progress as regards the United Nations Environment Programme's (UNEP) Ogoni cleanup process and other related issues.
For part one of the interview, please click here.
Read our chat with him below.
I would like to start by asking if the people of Goi and environs are faring better than they were the previous time we visited?
Our people are still in the situation you met since last year. Nothing has changed. We were hearing that they wanted to exercise the cleanup process but all of a sudden, we heard it has been shifted till October. And for your information, Goi still remains uninhabitable till now.
Despite the visit of the Vice President and Environment Minister?
Their visit has not yielded anything so far. It is like they are playing politics with the process.
You mean 2019 elections?
Yes. That is the way I see it. If not, what would have made them put off a project of this magnitude?
But you informed me during our previous discussion about a year ago that they were wrapping up the paperwork?
See, all these paperwork is what they claim they have been doing while we are yet to see any tangible thing done physically. Holding seminars in hotels is nothing, neither is driving luxury cars from host community to host community. Just implement the UNEP recommendations, especially the medical audit.
Have you interfaced with stakeholders like HYPREP, Shell and other concerned government authorities?
The issue is that Shell is saying the fault is not from them but from the federal government. It is the federal government that will kick-start the process.
Has Shell paid their own part of the remediation due?
Yes. I was told that Shell has remitted the money. I was recently in an important stakeholder meeting where we discussed the clean-up process extensively. The civil society organisations that were there present professed that the government is not sincere and that the major reason why they are talking about the process is only because of the 2019 elections. I know this very well and that was why during the project flag-off, I said it loud and clear that it is only a political jamboree.
Hydrocarbon Pollution Remediation Project (HYPREP) claims it has started medical outreach and has reached places like Nonwa. Have you seen them in Gokana?
No, they have not reached here. We were hearing that they wanted to embark on medical outreach but they are yet to cover all the communities. In fact, four days ago, I received a call from HYPREP and was asked how the Gokana clan is divided and I informed them that the Gokana clan is divided into five. Medical outreach is one of the emergency measures prescribed by UNEP, alternative clean water arrangement is another important one but unfortunately, we are yet to see any of these things on ground.
Are you privy to details of the Petroleum Industry Bill?
While they were preparing to go for the presentation at the National Assembly, I had information about the bill and I contributed my own quota.
What are your specific thoughts about the bill as a whole?
I think something good will come out of it. But host communities should not be left out. If host communities are left out of the scheme of things, automatically, there will be no reasonable progress. The Petroleum Host Community Development Bill (PHCDB) should be treated as high priority to empower the people economically and develop infrastructure. It would be good not to leave everything in the hands of extractive industries because if you leave everything in their hands, they do it the way they want and as soon as they notice something, they would try to cause confusion in the communities to reach their own selfish goals.
Besides, there appears to be a resurgence of militia agitation in the Niger Delta of recent. What can this be ascribed to?
People who say that the Niger Delta has been neglected are true. The Niger Delta is highly neglected. But sometimes also, these agitators fight for their own selfish interests. The whole benefit most times go into the pockets of these agitators alone and not to the entire community. If you look back at the years when there have been interventions, how many of the impacted communities have felt the impact of these interventions? There has been no development in the communities, so personally, I don't think these agitators are for the masses.
But how can the government work to ensure that these gains reach the masses?
Once pollution occurs, the first thing is for the people to be resettled and for the clean-up process to begin immediately. Moreover, government should advise oil companies to avoid going into litigation with host communities because this only aggravates the anger of the people. You know, when people realise that their communities have been polluted, their farmlands devastated and their means of livelihood crushed, they become angry. Multinational corporations should use Alternative Dispute Resolution instead of litigation or force as the use of force will only lead to loss of lives and property on both sides.
Also, there have been allegations and counter allegations between some Niger Delta youth groups on one hand and the Joint Task Force and Nigerian Navy on the other as regards oil theft. What have you observed over time about oil theft in the Niger Delta region?
You know that gamblers know how to play their games. Oil thieves, security operatives and the government are the tripartite groups involved in the process. Before an oil thief can go and vandalise a pipeline that is manned by security operatives, there must have been some sort of conspiracy. Before an oil thief knows that there is product inside the pipeline, they would have been in contact with some oil company staff who will then inform security operatives to look away when the illegal bunkering process is ongoing. It is impossible for oil thieves to be moving crude oil products in barges and big vessels without the knowledge of security operatives. It is clear that high level conspiracy goes on between security agencies, the boys and oil companies.
Do you know why oil companies find it difficult to tell us how much they are pumping from the ground? They cannot tell us or the government because if they tell us, it will reveal to us the true amount of revenue they are supposed to remit to government. By clamping down on oil thieves, oil companies will not be able to steal their own.
Are you saying that oil companies also steal oil and benefit from oil theft in the Niger Delta?
Yes, they benefit from it. They cheat the people from that very source; lifting more than they are supposed to lift and accusing the boys of pipeline vandalisation or interference.