Feeding Two Billion People in an Era of Climate Change
How can Africa Feed Africa by 2030? (1)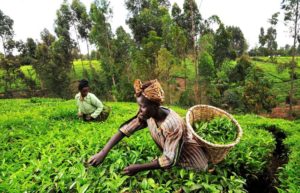 The current climate change challenge
The African population is projected to reach about 2 billion in 2030. But climate change threatens agriculture and food security on the continent. Majority of the food is produced by smallholder farmers who cultivate on only a few hectares of land and practice rain-fed agriculture. They have very limited preparedness to combat climate change in many cases. The Forum for Agricultural Research in Africa said in 2014 that Sub-Saharan Africa is the only developing region in the world where food insecurity has worsened in recent decades. It added that African countries are among the most vulnerable to the impacts of climate change due to the limited economic development and institutional capacity. In the face of very severe droughts, flooding, pest infestation, among other climate risks, farmers lose their crops and earn limited revenues. This situation, if it continues, will be a major setback to achieving the global goal of sustainable agriculture and food security and the African Union's agriculture commitments. With all of this, how will we Africans feed ourselves when we reach 2 billion people in 2030?
Efforts directed at boosting agricultural productivity
This is not to say that there is currently no effort ongoing in Africa to adapt to and mitigate climate change. There are many interventions that are ongoing to boost agricultural productivity. In 2003, the African Union through the Comprehensive Africa Agriculture Development Programme (CAADP) developed a framework to transform Africa's agriculture. CAADP committed to achieving 6% annual growth in GDP and 10% budgetary allocation to the agriculture sector in African countries. After 12 years of CAADP, public expenditures have increased by 7% across Africa. In addition to this are the National Adaptation Plans which seek to align climate change adaptation to national agricultural planning and focus on the individual country priorities.
One thing is essential however in adaptation planning: as we recognise that risks vary by countries, it is also important to break down the risks at the local levels. Countries do have different microclimates and climate risks in the agriculture sector vary from one district (or state or province) to another. Another thing to note is that climate change affects agriculture in different ways, even at the local level. Take Rwanda for an example. The country is largely agrarian with about 85% of its population living in the rural areas. Many of the farmers produce at subsistence level and since they depend on rain-fed agriculture, they are liable to the impacts of drought events. The country has 12 agro-ecological zones.
Rwandan Agricultural Sector Example
We recently concluded a research in the country to assess the Climate-resilient Postharvest and Agribusiness Support Project (PASP) by the UN's International Fund for Agriculture Development (IFAD). We sampled 356 beneficiaries from 13 cooperatives in the district. Part of the components of PASP is assisting smallholders with postharvest handling and storage infrastructures to reduce postharvest losses. This is a good project and so far it has achieved many of its objectives. But we found out that while the farmers may have saved tonnes of maize ad beans because of standard warehouses and drying facilities built, they still lose much of their harvests to droughts and pests.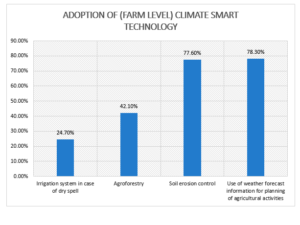 About 90% of the farmers sampled in Kayonza District experienced loss of their maize and beans in the last season. 98% of the respondents who lost their maize and beans said they did so on the field while 40% said the losses occurred after harvest. While the problem of crop loss occurs at both farm and off-farm levels, these statistics show that losses are more pronounced on the farm. Out of the problems listed as the causes of the loss, damages caused by pests and diseases and frequent dry spells appeared most serious. This is true since the country experienced one of its worst droughts in 60 years in 2016 affecting about 35000 hectares of planted crops. To know the preparedness of the farmers to drought-related challenges, we asked how many of them have received training on irrigation and natural resources management. 85% of these farmers had not received training on irrigation and natural resources management. We also found that only about 25% of our respondents have adopted irrigation agriculture unlike other climate-smart technologies like agroforestry (42%), soil erosion (77%) and weather forecasting (78%).
Suggested Approaches to Sustainable Agricultural Production
The important point that is being made here is that one approach cannot solve the multifaceted nature of agricultural climate change challenges even at the local level. To truly combat climate change, increase agricultural productivity and foster economic posterity in Africa, we need to understand what problems individual communities face. And while there is a need to prioritise, we should not leave out risks that will submerge the impacts we are trying to make. Also, while we try to boost agricultural productivity, we must keep the environment in mind. Our strategies must generate the least climate impacts through sustainable agricultural practices. Agriculture is already a major contributor to greenhouse gases emission and climate change, but it can also be a major climate change mitigation means.
While fertilisers and irrigation may boost productivity, we must understand at what expense we do this. Conscious use of fertilisers is important to avoid hampering aquatic lives which is also a major contributor to the food chain. Irrigation for agriculture requires serious assessment so that agriculture will not take all the water needed for other economic and social activities. Options like rainwater harvesting (instead of underground water harvesting) and food importation to save water footprint exist which may be more sustainable alternatives sometimes. We must weight all the available options for the best approach when suggesting interventions to agriculture and climate change. If we don't, we will only come back to where we started and address the problems all over again.