The World's First 100% Solar-Powered 5-Star Resort looks like heaven
We have not been to heaven before but we are certain that they use solar energy up there and this susty resort in The Maldives has all the heavenly features there needs to be. The Finolhu Villas on Kaafu Atoll is the world's first 100% solar-powered 5-star resort which sits at just over 13-acres, the island resort features 52 waterfront villas that branch off into the water like a vertebral column. Each villa has three rooms, a private beach, and a freshwater pool. There is also a spa and a gym on the main island as well as a restaurant/bar. Yiji Yamazaki was the designer behind this paradise project.
The video below shows a typical day in heaven on earth.
Covering the walkway to the villas is an integrated solar power system that – on a sunny day (which is basically every day in The Maldives)- is capable of producing over 1 MW of power. This is more than the resort uses on a daily basis.
Any excess solar energy that is produced gets stored in the resort's battery systemfor use on the seldom-seen, inclement days.
It would be great to have something like this replicated in Africa. See more pictures below: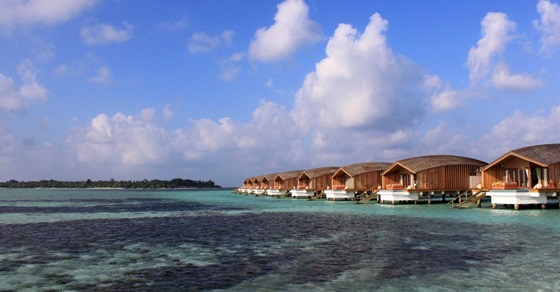 Source: Revolvesolar