What is Business Sustainability?
Part 1/13 of the Business Sustainability in Nigeria Series by Adiya Atuluku and Jennifer Uchendu
Understanding Business Sustainability requires a good knowledge of general sustainability as well as the business model and culture in which that particular organisation operates.
The World Council for Economic Development (WCED) defines sustainability as development that "meets the needs of the present without compromising the ability of future generations to meet their own needs." Sustainability, therefore, is an approach to creating true and real value to the systems and resources upon which that value depends on. Taking this further, Business Sustainability can be said to be a process of analysis and decision-making across business functions, obtained through a committed and clear understanding of transitions that may occur in the present or the future.
This means that a business truly practices sustainability when it holds a multi-dimensional view of its operations and its stakeholders, while positioning itself to thrive now and in the future. In doing so, the business manages its triple bottom line, namely profit, people and planet.
Essentially, business sustainability is about ensuring that the business doesn't run out of the resources (whether human or material) it needs in order to thrive. This also means that it doesn't just take a short-term view of profit, but instead, operates in such a way that it is profitable now (even though it may not be maximizing its profits) and it will be profitable in the future because it is using its resources well, has hedged its risks and can take any shocks that may occur.
Unfortunately, we as humans have built businesses over the years using only one dimension – profit. But how can a business truly be growing concern if it is one-sided and stands only on this one pillar? We've heard stories of so many businesses looking only at profit maximization, and failing because of this; Enron is a classic case of 'greed gone wrong'!
Business sustainability is really about considering not just one pillar, but the three pillars of sustainable development.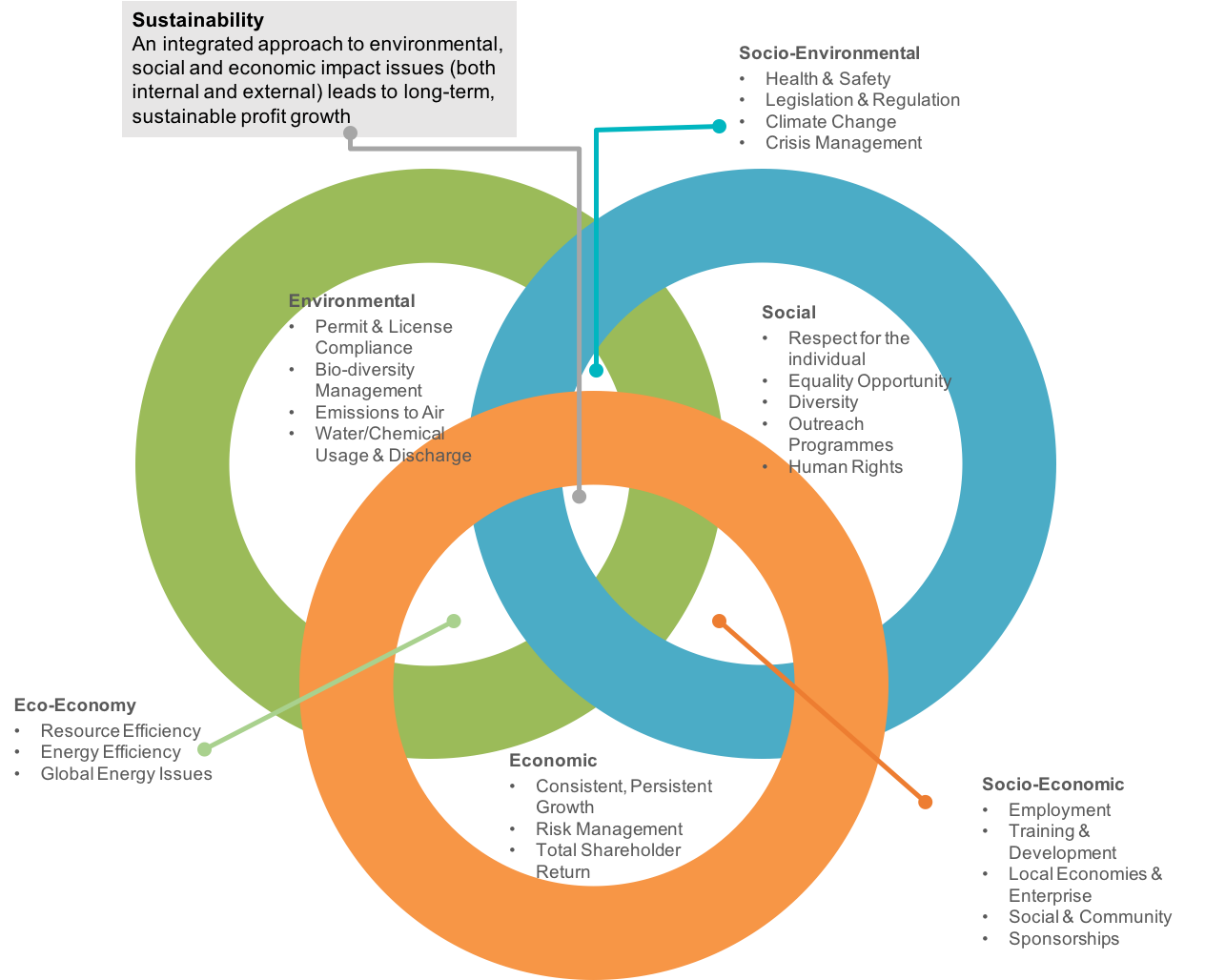 Economy (a.k.a. Profit): Business Sustainability is about being productive and prosperous (because without this your business doesn't survive), but doing this without negatively impacting on the other pillars. In fact, using innovation and creative thinking to enable the other two pillars increase your profit or/and reduce your cost is at the heart of business sustainability.
Society (a.k.a. People): Business Sustainability is about understanding your stakeholders – from employees, customers, investors, to your neighbouring communities, and actively engaging them! It's about finding common ground, considering how decisions affect all parties, and always choosing the win-win situation. Yes, even if it reduces the amount of profit you might get in the short-term.
Environment (a.k.a. Planet): Business Sustainability is about using the Earth's resources wisely and efficiently, and making sure that business operations have minimal, zero and even positive impact on the environment. Businesses have traditionally assumed that the Earth is never-ending and its resources are infinite. But even today, we are being proven wrong, and the negative environmental changes we are currently experiencing pose one of the greatest global risks to businesses.
Business sustainability is based on the principles of sustainable development – considering the three pillars of profit, people and planet; all of which are enabled by long-term thinking and resilience planning. But none of these will bring tangible benefits unless the business weaves these into its business model and culture. A business that does this will be seen as truly sustainable and would have made great strides towards outliving us all.
We will talk more about this in part two of the series.
Adiya Atuluku is passionate about helping businesses be more sustainable, and she uses her experiences in both environmental and management consulting to achieve this. She is also a believer in the role of technology and good project management in helping achieve sustainability strategies.
Jennifer Uchendu is the founder of SustyVibes and a sustainability analyst with experience working on and pioneering projects for sustainability in indigenous and multi-national organisations in Nigeria, she has a passion for helping businesses practice sustainability in the ways that best fit their size, operations and budget.