Teaching the SDGs at the HOPE City Camp, Port Harcourt.
The C.I.T.Y. Summer Leadership School is an intensive training program of the Eagles HOPE Foundation, designed to create an environment where leadership and life building values can be instilled into teenagers in a creative, impactful and fun-filled way. The primary objective of the summer program is to develop the leadership potential in teenagers by training/ mentoring them on the principles and values that would help them excel in life. As a volunteer of the foundation, I decided to both fund-raise and teach the SDGs to the children at this year's camp.
This year's camp tagged – "Leaders Arise" held at five different locations in Nigeria – Abuja, Ibadan, Lagos, Port Harcourt and Ogun State from August 10th- 20th, I happened to be at Port Harcourt at that time.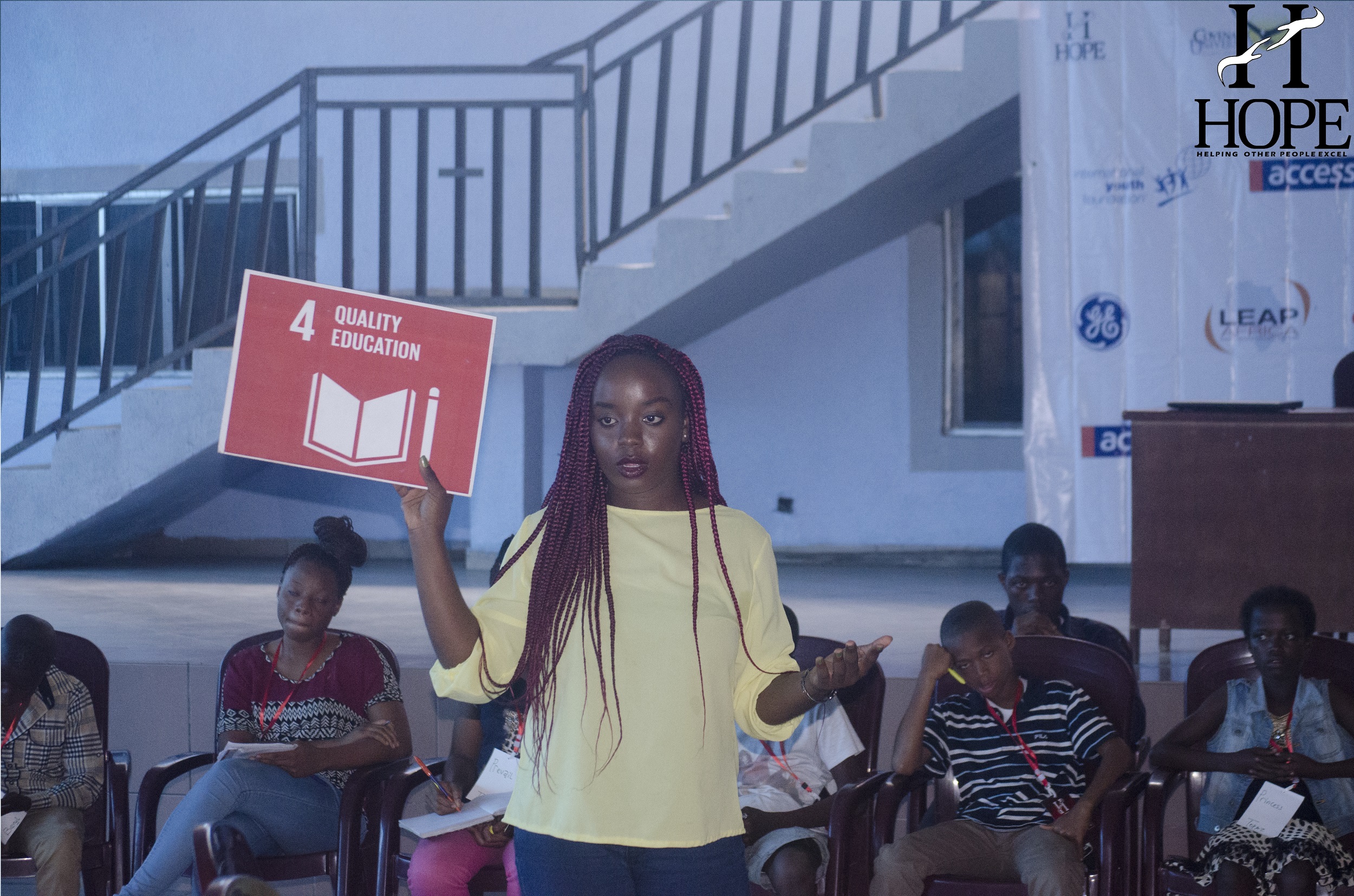 Teaching children the SDGs always comes with new expectations for me but I was not expecting the level of brilliance and belief in a better Nigeria that these children displayed on this day.
After going through the 17 SDGs, we decided to group them into their squads and have their coordinators discuss select goals with them. They then nominated someone from each squad to represent and share their recommendations. I noted some of them, please keep reading:
Garnet Squad on Goal 4 – Quality Education
– Children want a balance school life, they want the right amenities for both teaching and playing.
– Students deserve qualified teachers
– Overall, there is need for funding into the Nigerian Education system
Granite Squad on Goal 12 – Sustainable Consumption
– Nigeria should start using other natural and mineral resources the way we use oil.
– There is need to enact laws that make citizen scared of lawlessness and destruction of things
– The agriculture sector should be explored more and not seen as a poor man's job
Topaz Squad on Goal 17 – Partnership for the Goals
– Partnership would never work when we lack trust amongst each other
– There is need for financial support to help awareness of the SDGs
– Government, NGOs, schools and more must work together to make the SDGs successful.
– More people should volunteer for the SDGs (like Jennifer! They did not say this but it goes without saying. 🙂 )
Beryl Squad on Goal 2 – Zero Hunger
– Government can support agriculture by making it attractive for young people (with state of the art technology)
– Government should help with land space for people who want to farm and also provide good governance for safety of farmers.
Peridot Squad on Goal 3 – Good Health
– Everyone can start by avoiding pollution at all cost (#StareDownOnPollution)
– People need to know that Health is wealth and should take their health more seriously
Emerald Squad on Goal 13 – Climate Action
– Everyone should be encouraged to plant more trees
– The use of clean energy must be promoted and supported
Overall, I had fun doing this and I am always thankful for the opportunity to teach the SDGs, the children recognized that everyone (Government and the people) had a part to play in the SDGs. The total number of people trained including coordinators(26) and campers (47) trained were 73.