Susty Person of The Week – Tony Joy
Tony joy is an idea executionist, social innovator, waste to solutions expert and a counselor on human and emotional problems.
She is a graduate of English from Obafemi Awolowo Univeristy. She is one of Nigeria's leading social entrepreneurs with close to two years of experience in NGO management and entrepreneurship. She is a pace setter whose work has been instrumental to the development of secured livelihood for women and girls in rural communities through the focus on how waste can create wealth and art as well as creating solution to other social problems.  Joy Tony is the CEO/Founder of M.A.D Initiative- A social enterprise committed to clean environment and creates wealth and art from waste through the active involvement of young people, women and girls in communities while also solving environmental issues and creating solutions to other social problems.
At the enterprise, school bags are made from waste fabrics and sachet pure water nylons and chairs are made from pet bottles which are covered up with leather and fabric. Decomposable paper bags are made to reduce the use of nylons in stores, foot mats are also made from nylon and fabrics, and organic manure made out of decomposable waste. The enterprise also makes branded note books with fabrics and jewelries are made from pet bottles and fabrics among many other products. These are low cost products made out of waste as a way of encouraging environmental sustainability as well as giving community women and young girl's income, hence creating an improved livelihood for women and girls in the community. The enterprise is sited in Imafon, Akure, Ondo State.
She is a Queen Young Leaders Award (2015), an AFRIASPIRE fellow, a Volunteer Youth Activist for Ignite Youth Africa, a young leader for Global Alliance for Youth Leaders (GAYL). She is also mentee with WISCAR (2015/2016), a LEAP Africa SIP Fellow (2015/2016 class) of LEAP Africa, an Associate Fellow of the Royal Commonwealth Society and an Associate Fellow of Youth Action Network.  She recently in 2016 won an award for her environmental interventions from WIMBIZ.
We chat with Joy to learn about her work, please read below:
At what point did you decide waste to wealth was the next thing for you?
The journey started in February 2015 when I organised with the help and support of volunteers a clean-up and environmental sanitation education in 8 states in Nigeria, This was the first big thing that led to so many other amazing things that we have done as an organisation. The truth is before then; I never knew I was going to be in the world of waste. All I knew is I just love it clean and organised. The dots connected in 2014. I have always been passionate about thinking outside the box as well as helping others see beyond the box and that has a great influence on why the organisation is called M.A.D (Making a Difference Initiative). We are committed to making a difference and thinking outside the box. So all the way this has been it, it has been about questioning what is called impossible and seeking possibilities. Then in 2014, the dots connected. So if I love making a difference and seeking possibilities, then how then do I use my passion for seeing a clean environment to portray or preach the message of possibilities, solutions and opportunities. This is how we started; now we are glad to be a voice in the area of waste to solutions.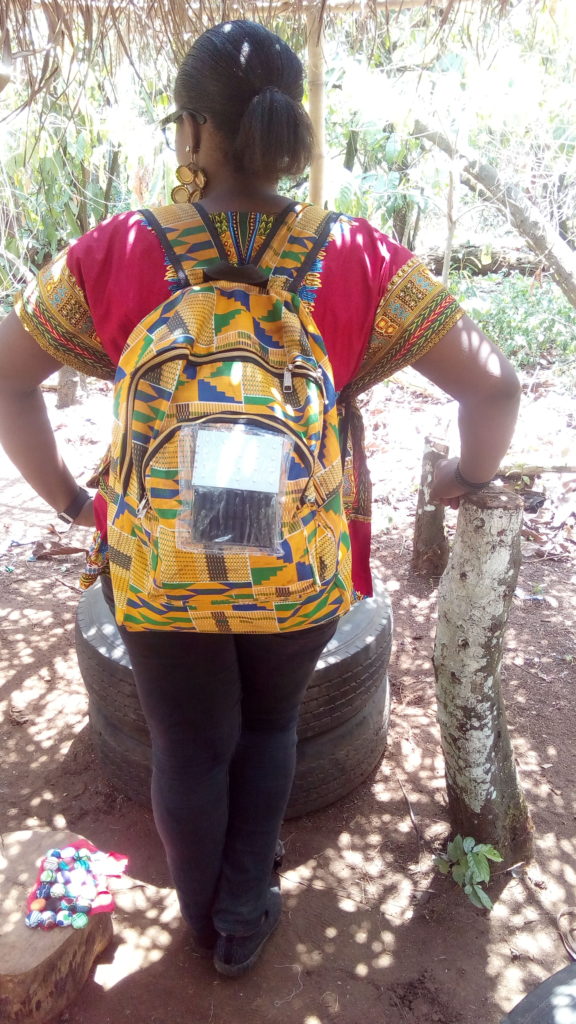 What SDG applies directly to your line of work?
SDG 6 applies directly to what we are doing- "Clean water and Sanitation". Yet, it is more than just this, because the model we run focuses on how we can use waste to create solutions to other social problems. Hence, the idea is while we are maintaining a cleaner environment we are also looking out for how through waste we contribute to the reduction of hunger, poverty, climate actions and gender inequality. We also look into how can we use waste to contribute to achieving sustainable housing, provide an opportunity for quality education and give access to affordable and clean energy. We already have projects in these other areas through our waste to solution intervention.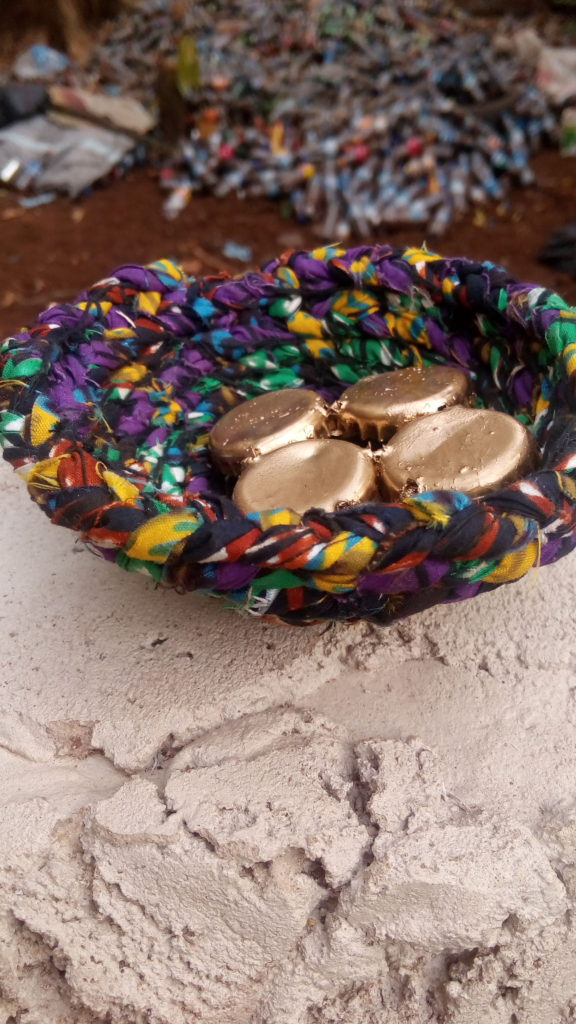 So do you consider yourself an environmentalist?
Yes, I am an environmentalist. Our environment is our future, once we toy with it, we are mostly likely going to toil on the road for survival and this will affect the next generation. Therefore, if we want to preserve the future let us take care of and love our environment.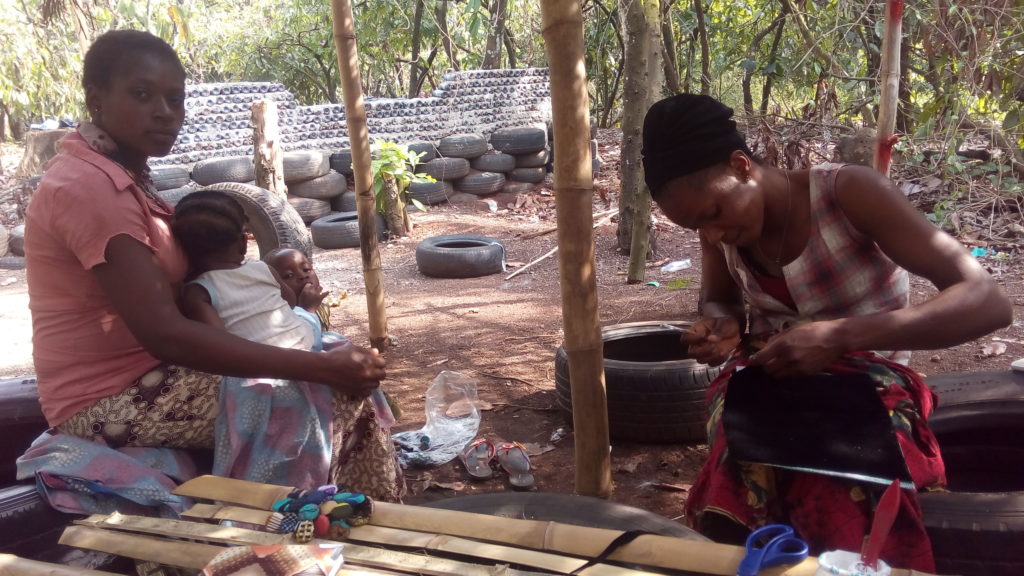 How do you measure your impact on the youth in the community you operate and the environment in general?
One of the major measures of impact for us is the level of behavioural change experienced as a result of our intervention style. We have had a lot of feedback from young people and people on how our intervention has helped them rethink "waste", Also the social enterprise model we run focuses on engaging and employing women and teenage mothers within rural communities, to make an income, while also keeping their environment clean. The number of women we have been to reach and the noticeable impact of our model on their livelihood status and on their responsiveness to their environment is also a way we measure our impact.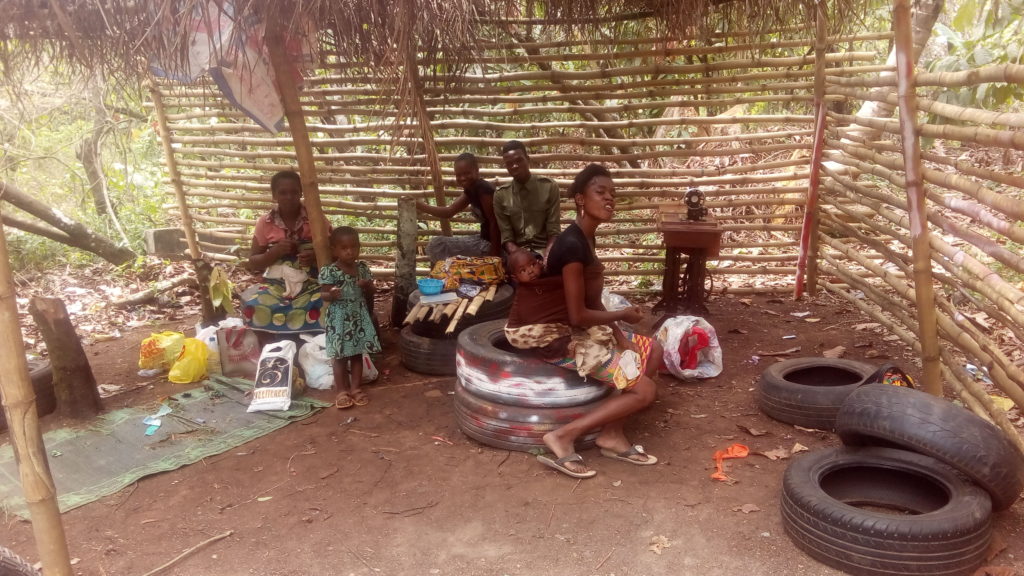 What exciting project are you currently working on?
We are currently building the first ever building made out of waste in south west Nigeria. The building which we call the Craft Village is a hall made out of tires and pet bottles. This low cost building will serve as a centre for teaching young people on the value of waste and on how to create solutions from waste. It will also be a centre for creativity for our women and teenage mothers who have been trained to create out of waste. We also want to through this project inform the general public that "it is more than just waste". Hence, we want to  see more low cost houses, we want to see schools built out of waste and so much more. We started this project in November, 2016 and have so far gone half way with the building. After the successful completion of this building we would have successfully take off the environment 8000 pet bottles and 0ver 500 tires. The Craft Village is located in Imafon, Akure, Ondo State.
How can people support this craft village?
We need so much support in completing and setting up the Craft village. We are half way done, but with your support, we believe that we can finish it. We are currently raising funds to complete the building. We need #500,000($1500).
Donations can be sent to:
Account name: Making A Difference Foundation
Account Number: 1019992685
Bank: UBA
What has been your most memorable moment since you began the M.A.D initiative?
M.A.D Initiative has carried out various projects but one of the most memorable moment for me is the outcome of the first edition of the Reuse Conference. We organised a Reuse Conference in December 2016, where we had an inter-secondary school pitch competition on ideas from waste. It was very amazing the ideas the schools came up with, the winning school Ijapo High School, came up with floor tiles made out of pet bottles. This event really got me and I was happy that our little intervention is sparking up creativity and innovation. I also learned that if given the opportunity and properly guided young people will take actions to conserve the environment and save the future. It is indeed a memory I will always hold dear.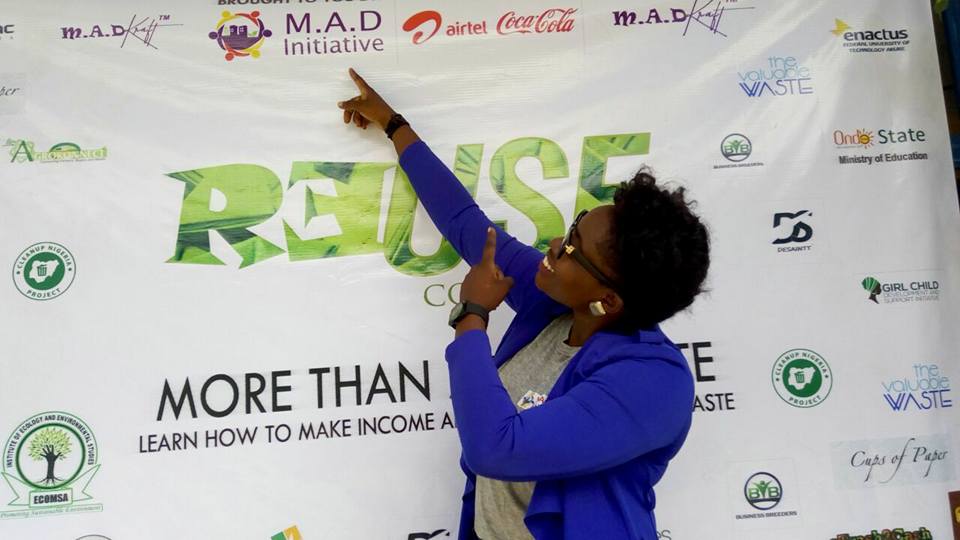 Who are your sustainability mentors?
Hmmm, my mentors, the list is long o,  Lawrence Afere, Patricia Omoqui, Chioma Ukonu, Bilikis Adebiyi Abiola, Jerome Cowans, Odunayo Sanya, Adepeju Jaiyeoba… the list of my sustainability mentors is long, these are just a few names. To them all I say a big thank you for their support in different forms.
What keeps you going?
Where we want to be keeps me going, no matter the challenges we face, we know where we want to be and that for us against all odds is our destination, and presently serving as the pilot of the ship which is a big responsibility also gives me the energy to keep moving because many lives are on board and I cannot afford to allow the ship to drown. Also God's grace has been my all even in the most difficult of times.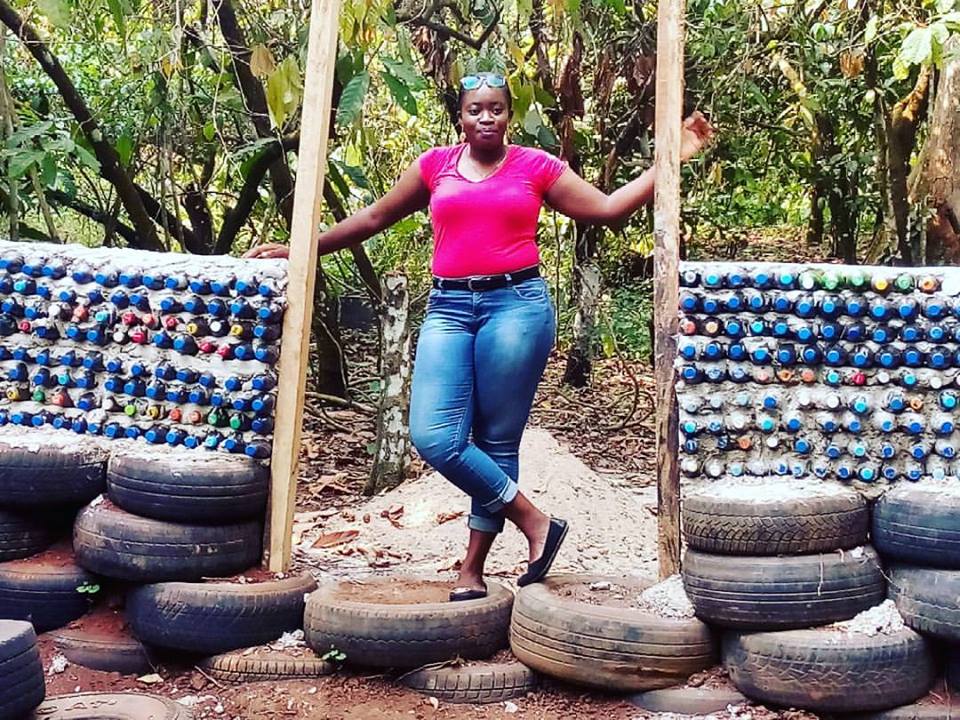 What are your greatest challenges with M.A.D initiative?
Hmmm, our challenges are unique to our intervention strategy and our area of focus. It is not so much an area of interest for a lot of people in Nigeria as they have built an unconscious habit of littering the environment. Passing down the message of the value of waste to these set of people have been so much of a challenge for us. Also one of the major challenges we have had over time is funding to launch some of our ideas and sustain our incredible intervention strategy. We have great plans on how to use waste to create solutions and how this will eventually led to a cleaner environment, but we don't have funds to actually drive this course as much as we will love to do.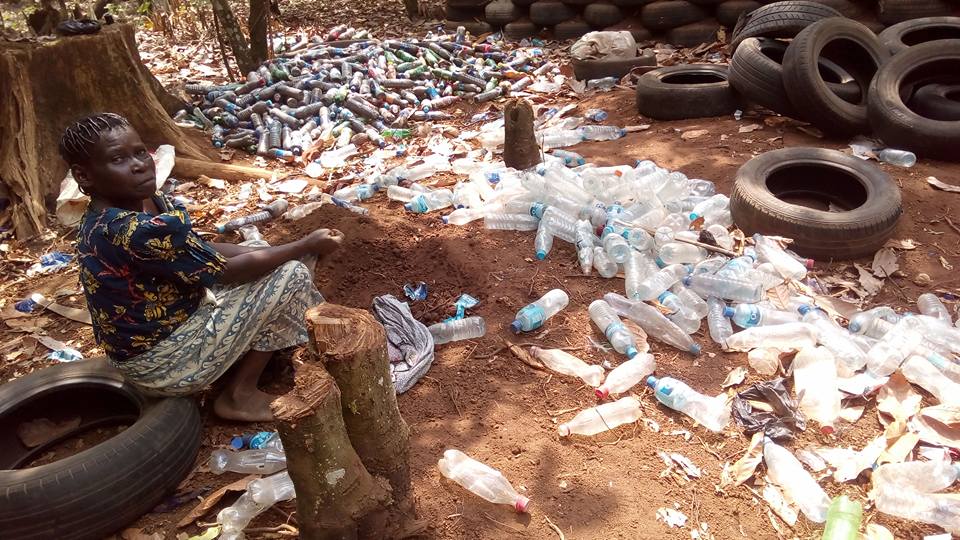 How can people reach you?
We can reached via:
Email: [email protected], [email protected],  [email protected]
Phone No: 08060816106
Facebook: www.facebook.com/teamwearemad
Instagram: @teamwearemad
Twitter: @teamwearemad
Website: themadinitiative.org