We hosted our Susty Party in Abuja on the 10th of December, 2016 and we still have not gotten over how awesome the day went. Spoken word poetry and movies were the themes for this party and with the help of the Abuja Literary Society, National Geographic and The Valuable Waste Initiative, we got some of the best guys in the Nigerian spoken word scene perform as well as screened two great movies.
Our Green Carpet
[clickToTweet tweet="What is a susty party without SDG awareness and pictures?" quote="What is a susty party without SDG awareness and pictures?" theme="style3″] We invested in a green carpet for all guests to take photos with their favorite SDGs and share on their social media platforms!
Cool right?
Spoken Word Impartation
We were blessed with acts from Sage Hassan, BrainBox, Deborah Braide, Yasky, Ayoola Emmanuel and Teniola Falade who reawakened our consciousness on how sustainability issues are actually real life issues. Sage spoke about climate change and Wild Life Protection, Deborah reminded young girls and women to believe in their inner strengths and dare to dream, Emmanuel challenged us on what we were doing on Climate Change on our individual abilities. Teniola Falade told us stories of nature and how it used to be – what are we really doing to our planet? while Brainbox courageously stood behind girls sold into the madness of slavery in the name of marriage, he also told us of the beauty of green. Oh what a night we had!
Oh, what a night we had!
Brainbox perfroming….
Why we are not holding back on our sustainability mandate
Founder, Jennifer Uchendu took some time to welcome guests and tell them a little about what we do at SustyVibes, re-emphasizing the need to believe in a Nigeria that we would eventually thrive in.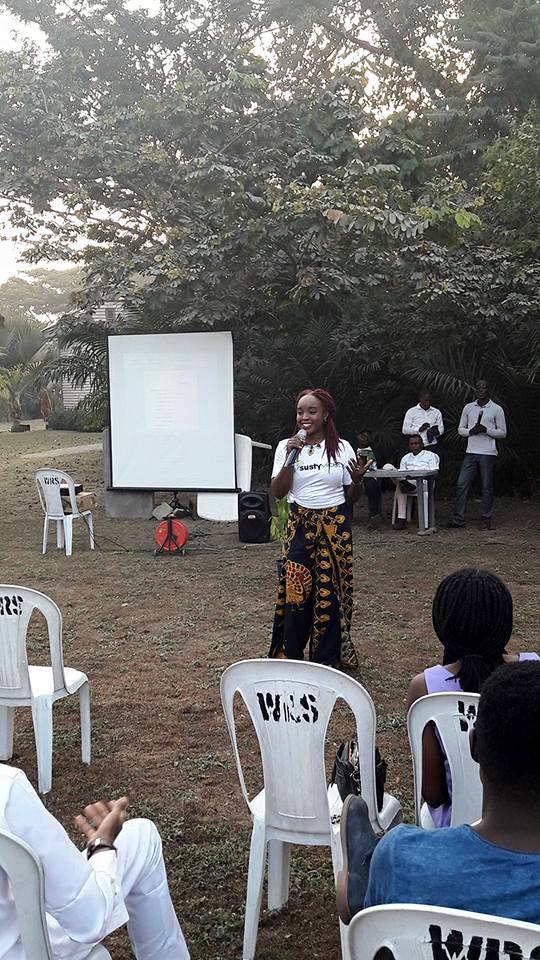 Movie Time!
We then watched the conference version of The Valuable Waste Movie and the full version of  Before The Flood  by Leonardio Di Carpio!
Susty Sponsors – Thank You!
We appreciate the organisations that supported this event in various ways. They are the real MVPs!
We'll have more parties in the new year with even more exciting themes, stay with us!