Susty Events: Lagos Business School Hosts Symposium on Water
Lagos Business School(LBS) is hosting a symposium for stakeholders in Nigeria to discuss on water and sanitation. The symposium is themed Water for Sustainable Development and is put together by LBS's First Bank Sustainable Centre alongside the School's corporate partners.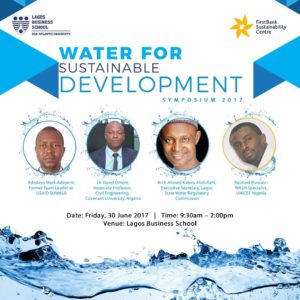 The forum will serve as a platform for business, government officials, water policy makers and experts, academics and civil society representatives to engage in a focused and balanced discussion on policy measures, actions and means of implementation to fast-track implementation of the United Nations sixth sustainable development goal: Ensure availability and sustainable management of water and sanitation for all with its related targets, and the twelfth goal: Ensure sustainable production and consumption patterns.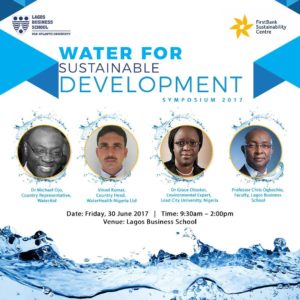 A keynote address will be delivered by Mr Raphael Nwozor, Wash Specialist UNICEF on the topic: Water Sustainability: From Awareness to Action. There will also be talks by Engr Muminu Badmus, the GMD, Lagos Water Corporation,; Arc Ahmed Kabiru Abdullahi, the Executive Secretary, Lagos State Water Regulatory Commission, and other officials from academia and industry.
The symposium will hold on Friday, 30 June 2017 at Lagos Business School, Ajah. Time: 09:30am. For inquiries, contact Eunice Amoka on 07067074479 or send an email to [email protected]