Solar and Wind Power to Spark Hope in Sri Lanka
As the country's southwestern region comes to grips with the devastating aftermath of recent floods, hope for a more sustainable future rises from the northern regions where a new solar and wind energy farm will soon be built.
As Sri Lanka continues to struggle with the aftermath of the devastating floods that struck the country in late May, its government is making moves to boost its resilience to climate change, as well as slash its carbon emissions by investing in renewable energy.
The May 2017 floods had a death toll of about 200 people, displaced hundreds of thousands, and left the agricultural sector devastated. It is the latest extreme weather event to affect the island country in the Indian Ocean, after heavy rains in 2011 and 2009.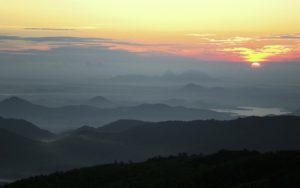 In a bid to cut its own emissions, Sri Lanka's cabinet of ministers on May 24 announced that it had approved plans to build a hybrid renewable energy park including 240 megawatts (MW) of wind and 800MW of solar in the country's northern Punarin province.
Led by the Sri Lanka Sustainable Energy Authority (SLSEA), the project aligns with the government's targets to increase renewable energy share by up to 100 percent by 2030.
The government has decided to build the wind and solar farms in the northern regions because they receive less rainfall throughout the year than the rest of the country, and are therefore more suitable for locations of renewable energy generation.
In March this year, the cabinet also announced that Sri Lanka would go ahead with an international tender to set up a 100MW floating solar plant on the Maduru Oya Reservoir in the eastern part of the island.
Since then, it has approved a proposal relating to grant relief on loan interest rates for residential solar P and voted to allocate LKR350 million (US$2.29 million) in the 2017 budget to implement a green building policy.
These recent renewable energy investments are part of a broader fight against climate change by Sri Lanka, which signed the Paris Agreement on April 22, 2016.
Shortly after the signing, Sri Lanka President Maithripala Sirserena launched a landmark national initiative aimed at transforming the country towards a low-carbon economy, a development plan is known as "Sri Lanka NEXT – Blue Green era."
In a statement made on January 6, 2016, Sirserena blamed the country's unsustainable production and consumption practices for environmental problems such as air, water, soil and marine pollution.
"Correcting social, economic, and physical development strategies is a great service for the sustainability of our future generations," he said.
The country is now looking at how to better adapt to climate change. Under the Sri Lanka NEXT economic blueprint, for instance, 10,000 climate resilient villages will be set up.
The country will also boost its marine resources through sustainable development strategies and transition to a green production and consumption model in the areas of food production, construction, and energy generation.
Source: Eco-Business