My Recycle Story – Rehoboth Waste Management Services
The idea of Rehoboth Waste Management Services (RWMS) was first conceived in January 2012 motivated by the deplorable state created by waste on a piece of land turned dumpsite on Chidozie Ikokwu's street. In June 2012 RWMS was established to solve the indiscriminate dumping of refuse that generated conflicts amongst residents in his community in Osun state. Chidozie embarked on an extensive research on how best to resolve this obvious, growing hazardous environmental challenge. This research took him to the heart of a refuse collection and disposal site in Lagos to study firsthand how they had been able to practice proper waste disposal.
After extensive research offline and online and learning about waste management and recycling, Chidozie found an opportunity in waste but soon became faced with the common challenge of many new entrepreneurs – capital. He was keen on making the idea of waste collection accepted by the community and hence sought the help of family, friends and the local government water and sanitation department to spread the news of a more improved waste collection that was in town. RWMS started by introducing plastic waste bags to residential clients and waste bins for industrial clients in Osun state to collect wastes.
Barely six (6) months of entering the recycling business, RWMS started to face challenges with government policies. Then they reached out to RecyclePoints, another recycling firm, to understand how they sustainably ran their recovery outfit in Lagos so that RWMS can replicate same in Osun state. The RecyclePoints Co-Founder and Chief Operating Officer, Chioma Ukonu, played an important role in the success of RWMS. Both firms went ahead to become beneficiaries of the Tony Elumelu Entrepreneurship Programme.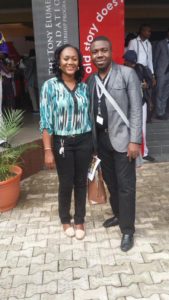 RWMS eventually began operations in November 2015 which saw their impact grow rapidly with technical advisory support from RecyclePoints. Replicating what was done in Lagos in Osun posed lots of challenge at first due to the level of recycling education that had to be done. The people were very curious to know why RWMS needed their waste, why they must sort it and what exactly was intended to be done with the waste. People began to embrace the idea of an alternative waste disposition with time: recycling was growing and the perception of the people changed.
However, there was some opposition from contractors handling waste collection in some of the areas they used as access points for recyclables. With gentle and proper enlightening on the purpose of RWMS, the way was paved. In a nutshell, environmental education played a vital role.
Although they started operations with the collection of PET plastics, RWMS had to focus their strength on other recyclables when their efforts to acquire a baling machine didn't work out. The categories of recyclables that the firm currently collects are white paper, office paper, brown carton, chipboard paper and coloured paper. They collect most of their inputs from industrial partners such as paper printing press, banks, schools and supermarkets and very few from households. Within the time they started operation, they have been able to cover a considerable number of business-active local governments in Osun state such as Gbongan, Osogbo, Ilesha and Ile-Ife.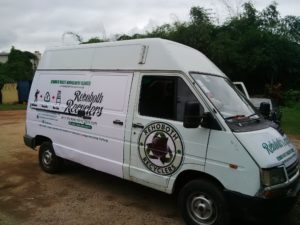 RWMS actively supported the regional recycling initiative that was organised at the prestigious Obafemi Awolowo University. They have also reached an agreement with the authorities of Obafemi Awolowo University to collect recyclables when available.
The firm has a long-term plan of incorporating other forms of recycling (food waste recycling) into their operations once they are able to get their hands on the finance to invest in the sector. The staff strength of Rehoboth Recycling has grown proportionally with their financial strength. As Rehoboth considers job satisfaction as an essential ingredient to operational productivity. Through rotational engagement on the field, members of staff at RWMS have acquired considerable knowledge of best practice in recycling.
The firm is reaching out to agencies for a collaborative partnership to further advance the recycling sector so as to fully benefit from the enormous advantages that lie therein. In the words of the founder, Chidozie Ikokwu,
"The gains of recycling can only be fully evident if the agencies saddled with the responsibility of supporting entrepreneurs concentrate more on making sure that policies that will establish a practical perspective to this sector are fully implemented. The challenges of unemployment will be far reduced when we harness all that is in it to keep operations constantly active."