My Recycle Story – Recycle Points
Nothing is as amazing as getting rewarded for your own waste and we are doing just that and quite efficiently too. RecyclePoints is a waste recycling and social benefit venture that is addressing Nigeria's waste management crisis through its incentive-based waste recycling initiative. Now, we know that Nigeria is presently a consumer-oriented nation and it has been estimated that the average individual in Nigeria generates 0.5kg of waste daily (yup!). This translates by its current population statistics to about 80,000 Metric Tonnes of waste which will require over 2,000 Garbage Trucks to dispose of daily.
State governments have been greatly saddled with the financial responsibility of handling this herculean waste disposal task with little or nothing coming in as revenue from waste management. Most citizens are unwilling to pay waste collection bills from where revenue is to be generated to support the service. State Governments also have to secure large expanse of lands to act as waste dumps or landfills and the maintenance of these landfills comes at a huge cost! Now, the good news is that 80% of what we "throw away" are recyclables and with an improved strategy and model the intrinsic value that can be "extracted" from these "wastes" can greatly impact our economy. Study shows that Nigeria's waste market if adequately harnessed can generate about ₦2Billion daily from sales of materials recovered from waste.
The RecyclePoints initiative came about as an idea fuelled by a penalty given to our founding couple for improper waste disposal in the United Kingdom, our founders thought it wise on their return to their country Nigeria to initiate a recycling model that will promote best practices in waste management and offer some sort of social benefits as well. They, along with some other passionate Nigerians worked on developing an incentive-based scheme that is geared to motivate citizens to recycle by creating value from their everyday waste. Subscribers to our initiative deposit their home sorted recyclable waste items in exchange for Points which is recorded on passbooks called GreenCards. These Points are accumulated and used to redeem cash or household items offered through our iRecycle store.
These Points are accumulated and used to redeem cash or household items offered through our iRecycle store. At RecyclePoints, we recover numerous valuable materials from waste; we collect and process Plastics, pure water sachets, aluminium cans, glass, paper, electronics, tyres, and batteries etc. Our model is built around a community-based recyclable collection and sorting enterprise called CoSoHUB (Collection and Sorting Hub). Our CoSoHUBs engage the members of the community in which it is initiated, providing the unemployed residents of the community (especially women and youths) with a dignified job of collecting, sorting and processing of recyclable materials. This first tier activity that happens at our CoSoHUBs adds tremendous quality value to the recycling process. A standard CoSoHUB which receives a daily average of 5 Metric Tonnes of recyclables and this can cater for the employment of about 50 workers. Our CoSoHUB could process an average of 75 tonnes of PET bottles per month which are baled and sold locally or exported.
RecyclePoints has over 7,000 registered subscribers loyal to its recycling scheme which currently operates in Lagos and Oyo States with established 3 CoSoHUBs in Lagos and 2 CoSoHUBs in Ibadan (Estimated daily average of 25 metric tonnes of recyclable waste). We also operate a Corporate Recycling Program that allows organisations and schools to benefit from the platform to achieve their sustainability policies.
Corporate companies like DeltaAfrik, Saipem, ThistlePraxis, Chellarams, Nigerian Army Shopping Arena, Access Bank, Union Bank, First City Monument Bank just to mention a few, that have signed up to this corporate recycling program.
Our recycling scheme deploys the use Electric Cargo Tricycles first of its kind in Nigeria, manned by youthful adults we call WasteBusters, who embark on a door-to-door collection of recyclable waste from registered subscribers in the iRecycle Network. We have also engineered the fabrication of unique solar powered recyclable waste drop-off centres called iRecycle Kiosks which are repurposed 40ft or 20ft shipping containers designed to create an enterprise for independent waste collectors through our Franchise Waste Aggregators Program. The Waste Aggregators Program also gave birth to our Waste Pickers Initiative (WPI) which financially empowers indigent citizens who commit themselves to the task of collecting and selling recyclable waste items fetched from homes, streets, commercial and event centres. The iRecycle Kiosk allays the challenging problem of accessibility and convenience to recycling facilities and aggressively supports the waste recovery value chain.
Our initiative received its first support from Tony Elumelu Foundation through the maiden edition of Tony Elumelu Entrepreneurship Program (TEEP). We won the Best Waste & Recycling Innovation at the 2015 Waste and Recycling Awards and also won the Recycling Venture of the Year at the 2016 Africa Cleanup Awards. Since then, we have been on a winning streak, winning the Growth-Stage Award of the Maiden Aso Villa Demo Day and physically presenting our initiative to President Muhammadu Buhari, and wrapping the year 2016 up with winning the 2016 Regional Finals of Chivas The Venture which accords us the opportunity this compete at the global finale for a share of $1million.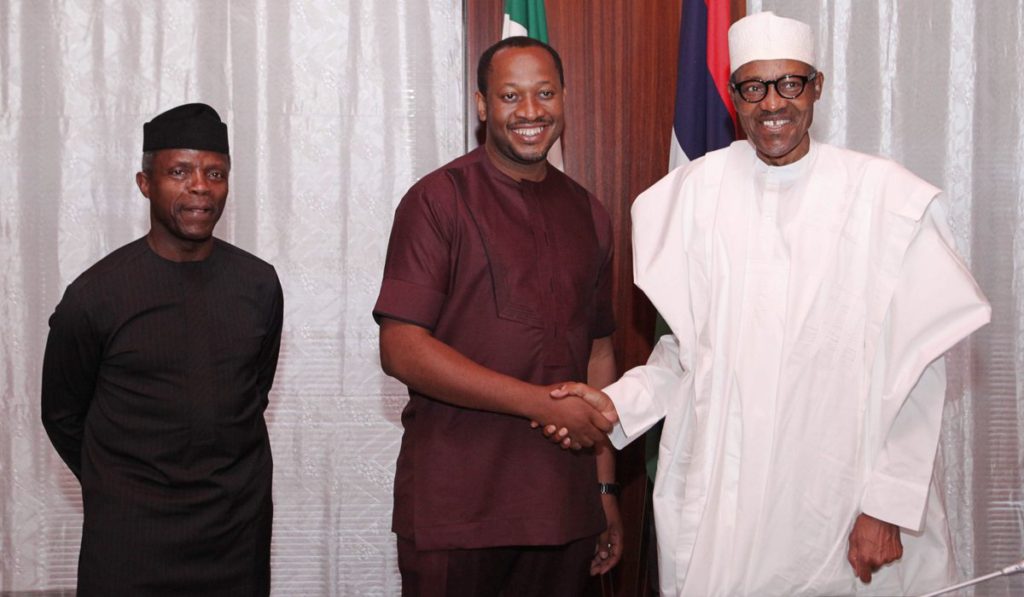 We totally love and cherish our recycling journey which has taken us to numerous places, connected and endeared us with awesome individuals and organizations. We keep getting recognized and validated by numerous national and international media organizations and we are quite elated by the public approval of our brand and its potential to be globally identified as the currency that converts waste to wealth!