Our People now Fish in Cameroonian Waters
Chief Eric Bariza Dooh the High Chief of Goi Community in Gokana Local Government Area of Rivers State., shares his thoughts on the situation of the Ogoni people and the issues surrounding the Ogoni clean-up project.
We read in the papers that HYPREP (Hydrocarbon Pollution and Remediation Project) visited some communities in Ogoni recently and promised that clean-up will commence in earnest. Has the clean-up exercise started yet?
What they did that time was to gather data and process some documentation. I am not with them in the office but I can say that the documentation process is going on. However, the process per se has not started.
Ogoni clean-up according to the UNEP report will take about 30 years and the report recommends that some emergency palliative measures be put on ground before clean-up proper commences. The question is, have these measures be put on ground?
Honestly, we were told it would take about 35 years. Recently, I was with a civil society group in Port Harcourt and I told them that first, the assessment has to be reviewed because if the process starts and the depth of pollution has increased than what the case was six years ago when the report was published, definitely, the cost would increase.
Presently, there are no palliative measures on ground. As I am speaking, there are no quality health facilities around here. The most common thing necessary for human survival is good water but we don't even have that. Government should provide us with basic social amenities that will sustain us while the clean-up process is in progress.
In addition, there are no good roads around here. If the company that's supposed to effect the clean-up come and want to access the polluted sites, where will they pass?
We are supposed to have good roads as that will really help those who will carry out the clean-up to navigate easily thereby making their work less strenuous. These issues are very important. Even the UNEP report recommends that these measures be on ground before the exercise commences but unfortunately, nothing has been done and if they do not put these measures on ground, I don't think the clean-up can be successful.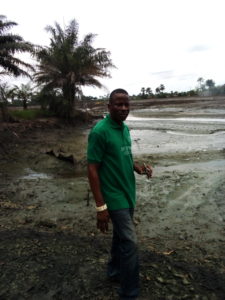 Chief Eric Bariza Dooh
But in Ogale, I remember that I saw a water tank and it is written on the tank that it's a government sponsored water project. I later spoke with one of the landlords in that area and he revealed that government was supplying them water initially but that they've stopped. How about that?
You see, in that area, their case is different. Here, we don't have anything like relief materials. Even those that were being provided with water in the past, the tankers used to convey water to them were contaminated tankers. I saw those tankers. They are old and contaminated and the discharge points don't have water treatment facilities. They were just giving them water without paying attention to the people's health.
The Chairman of Host Communities Network mentioned while we were discussing that in Bodo city alone, an average of 5 people lose their lives every week …
(Cuts in) In fact, the data he gave is not accurate enough. After we vacated Goi community as the place has become inhabitable, – you even saw my house and the whole community itself – we settled in Bodo city. To be candid, I can authoritatively tell you that in a week not less than seven people die in Bodo. Today alone, I have heard about the death of three people. Two of them died in the labour room while one person died as a result of complications from respiratory disease. Come to think of it, if three people die in one day alone, how many deaths do you think we would record in a week?
Mortality rate here is on the high side because the level of pollution and contamination is very high. We have no choice than to eat contaminated food, drink contaminated water and inhale unclean air. How do you expect us to live in a polluted environment and survive? It is very terrible.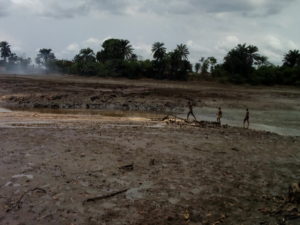 Polluted site
Are there any other factors that contribute to the high level of mortality asides pollution and contamination?
Yes of course. For instance, my father was supposed to be compensated for the devastation of the properties he lost as a result of oil pollution but because he was deprived of his entitlements, he resorted to thinking and worrying and as a result, he developed high blood pressure. That coupled with the respiratory disease he had initially quickened his death.
We are mostly farmers and fishermen but because of the pollution, most of us have lost our sources of livelihood and as a result, some of our people are getting involved in shady things to make ends meet. Our boys are now being lured into activities that can lead to their untimely death. So many of them are into bunkering and illegal refining because they have limited choices and once they get caught, their lives are not spared. Some people also developed unnecessary illnesses as a result of idleness. All these contribute a lot to the high rate of mortality. The average life expectancy in Ogoni is 41.
As a community head, what steps are you taking to ensure that the welfare of the people improves especially in light of the clean-up?
The truth of the matter is that the government is not carrying the local communities along. One other thing that surprises me is that the whole process is being politicized. The whole area where the pollution impacted heavily does not feel any sense of belonging in the whole process. Instead of carrying the people along, the process has been turned into one that involves only the academics. If you are not an academic, you cannot be involved in the process. For example, the government told us that they would train 1000 of our people. Our people didn't know where or when these people were recruited and the criteria they used for recruitment. These big people who are put in charge don't live in the communities where pollution has destroyed. They don't suffer the effects of this devastation.
In the same vein, is it that the body of traditional rulers in Rivers state and the Niger Delta as a whole is not being carried along as well?                  
Honestly, traditional rulers have categories and whenever government wants to discuss with traditional rulers, they categorize them and once you don't fall within the first class category, you won't be carried along. When traditional rulers from this area were to visit the President, only those who fall within the first class category were invited. And you see, most of these first class traditional rulers don't even know the colour of the crude. Some have never felt the impacts of pollution; they live in fully air-conditioned houses and ride fancy cars.
We local traditional rulers are the ones that can attest to what is happening. So if we are consulted; even if we are not invited to Abuja, it is then that we can give them the true picture of what is happening and how best to tackle the challenges. Nothing will work if you carry along only traditional rulers who are based in Abuja or Port Harcourt. As far as I am not being carried along, whatever I say will be like mere noisemaking but I know that what I am saying is the fact. Personally, I am not interested in gratification, I am interested only in the welfare of my people; that is all that I am after and that is what is strengthening my struggle.
Now to the amnesty program. Recently, some militants have started to regroup and have started sabotaging oil installations once again. Would you agree that the amnesty program seems not to be as effective?
The program would have been successful but it's like the federal government designed the amnesty deal for the big boys alone. They didn't come to the grass roots to involve the small boys. The big boys are just at the top managing the process and leaving the small boys in the grassroots unabsorbed. If the government had meant well for the amnesty deal, they wouldn't have given the entire process to the big boys. They should have come to the grassroots and tactically get the boys involved in these activities and create an avenue for absorbing them. These boys can be used as security personnel for the oil facilities. In that way, if anything happens to the facilities, it would be easy for the boys to be held liable. Making them the protectors of these facilities will reduce their tendencies to vandalize the installations.
Without education, no society can develop. Looking around the community, one can see that a lot of young people who are supposed to be in school are out of school. What is the cause and how can this trend be reversed?
Due to the situation on ground; with the sources of livelihood of parents blocked, they can no longer afford to pay school fees or buy books for their wards. Government can at least help us by giving our children free education and full scholarships. It is only through this that our children can have access to qualitative education.
I will not say that they should employ our children because employing someone who is not qualified and educationally sound is a disservice. But if you employ someone who is well educated and very sound in his/ her field, such a person would be very productive. I am therefore pleading to the government, concerned individuals and organizations to come to our rescue by giving scholarships to our children.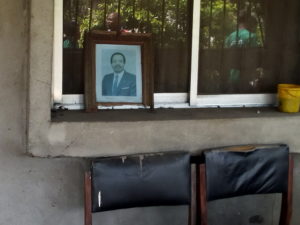 Picture of President Paul Biya as seen in the front porch of a house in Bodo City
While moving around, I saw the picture of President Paul Biya of Cameroon displayed on the corridor of someone's house and when enquiries were made, it was said that a lot of Ogoni people migrate to Cameroon to fish and to seek greener pastures. Can you give an accurate statistics of Ogonis who have migrated?
To be very frank – and you can ask other people for confirmation – 45% of Bodo people or let me say the Gokana people are living in Cameroon because, in our waters, we don't have enough fish to sustain us anymore as a result of the pollution.