Olabanke upcycles her way through creativity
Tyres are recognised as "environmental pest" in waste management. Olabanke Banjo has identified a creative way to upcycle them into unique and colourfully vibrant pieces of furniture. Olabanke Banjo is the creative director of Cyrus45 Factory, a growing company which is disrupting the furniture industry with its avant-garde designs to cater for art lovers.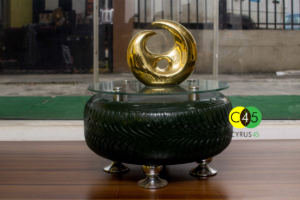 1. How did you discover your passion 
I discovered my passion for art and unconventionality when I was 9 or 10. I loved quirky and unique things as a child. If everyone was wearing their hat to the back, I would wear mine to the side and put a bow on it. It was just who I was and is who I am. My mum noticed this and ensured she fostered my interest in the arts, buying me paint brushes, enrolling in bead making school etc.
2. You are making strides in a male-dominated industry, how has the experience been?
I would hardly say furniture making or recycling is a male-dominated industry. If this was 2010, maybe. The word is evolving and so is the African society. However, I would say it has been a challenging, exciting and eye-opening venturing into furniture making and also recycling.
3  Did you come across any personal barrier to becoming the woman you are
Definitely. I grew up with my just my mum because my parents got divorced when I was pretty young. It was tough for myself and my sisters being all girls but the situation helped shape the strong, confident woman I am today. 
4. The use of tyre for furniture is quite innovative, what  inspired  the innovation 
I became inspired to start using tyres to make bespoke furniture sometime last year while living with my elder sister in Lagos, I came across a pile of about 20 used tyres in her compound. Her neighbours intended to dispose of them because they had been lying fallow for almost 2 years. But being a lover of revamping old items, I asked them to give me the tyres and that was it. I made my first coffee table, after consulting google on how to recycle and reuse old tyres. I also realized that I could contribute to the reduction of environmental pollution while also running a profitable business venture.
5.How do you source materials for your products
Most of the tyres used in producing Cyrus45 furniture are collected from the streets and refuse dumps. The others are given to us by friends, family and members of the community.
6.Do you design and craft your products yourself? 
Yes, I do. All designs of my products are created by me; sometimes my mum, sisters and best friends help out. The production is mainly carried out by my carpenters and once in a while, I also get my hands dirty. 
7.How has your passion influenced your business profitability?'
My passion for the arts and unconventionality has influenced by business positively and profitably particularly because of the uniqueness of my designs. One of my goals is to change the face of made in Nigeria products by creating ultra-modern and avant-garde products.So far there has been a demand for my products within and outside Nigeria and I believe this is as a result of my passion for the unconventional.
8.What has your sustainability journey been like?
I am proud of the journey so far, although there are challenges I face daily, my passion and resolve keeps me focused on the work still to be done. It is tough in a community where sustainability is not appreciated and in most cases, people are not even informed of the advantages that come with it. I believe Sustainability cannot be effective unless we all take it seriously and play our part in sustainable development. I am pleased to say we have recycled over 50 used tyres taken off the streets of Lagos within two months of relaunching in September this year and we are working to triple that figure before end of 2017. We continue to encourage and educate the public about the benefits of sustainable development as we progress on our journey. 
9.How would you explain the role of women in sustainability?
Looking at nature's design of women, we are nurturers and as such, we are especially gifted in the art of sustainable growth and development. I believe women should be in critical political and private positions that can make the required impact to sustainability in our Nation and globally. 
10.As a country, do you think we are doing enough for sustainable development?
I do not think we are doing enough although I do see a growing awareness in the middle aged class. I believe we can do better in setting sustainable development goals and take the required steps to achieving and even surpassing the set goals. 
11.Do you have words for young up cyclers out there, especially women? 
Follow your dreams, believe in your art, don't let fear prevent you from trying and watch the sky be your starting point.
12. How can interested individuals get your product?
By calling our hotlines 08110205332, 08166063832 and following us on [email protected]_, Twitter and Facebook @cyrus45factory