Ogoni Clean-up Will Last For 25 Years – Federal Government of Nigeria
The Federal Government has declared that the clean-up of Ogoni environment in line with the recommendations of the United Nation's Environment Programme (UNEP) is a long term project that will last for 25 years.
It also declared that the implementation of the report of the UNEP in Ogoniland is above politics, hence the Rivers State government will be involved in the process. The Federal Minister of Environment, Amina Mohammed, spoke yesterday when she paid a courtesy visit to the Rivers State Governor, Ezebunwo Nyesom Wike at the Government House, PH.
Amina Mohammed stated that the new committee set up by the Ministry of Environment, to plan the launch of the programme will have two representatives of the state government.
She said the interaction with stakeholders has led to more inclusion as they head towards the launch of the UNEP Report.
Responding, Governor Ezebunwo Nyesom Wike, explained that the state government requested for inclusion in the implementation of the UNEP Report because it is interested in a safe environment for the Ogoni people.
Wike, who stated that though the UNEP Report is a Federal Government project, it is necessary for the state government to be included in the processes, pointing out that it was necessary for the Federal Government to spell out the extent to which the state government will be involved and the nature of its involvement.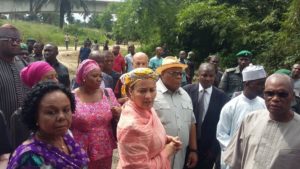 He said, "We are interested in supporting the Federal Government to achieve the clean up of Ogoni land. That is why we seek that the state be carried  along. By requesting that we be carried along, we are not asking for contracts. We are only seeking to be involved in the process through information. Because we are committed to Ogoni land being cleaned up, that is why we are clamouring to be involved."
Story culled form leadership.ng and pictures gotten from Esther Agbarakwe