More Than Just Farming
Principles of Organic Farming
Catching the Farming Bug
The childish curiosity I had towards farming as a child metamorphosed into passionate fanatism in the year 2013.
One of my grandaunts was visiting the family and saw me one early morning as I was weeding vegetable steads at the little backyard garden. I had no idea that my grandaunt was standing right behind me and watching my every move. After watching for a while, she came over to where I was and said, "Baale agbe tuntun re o" (this is the next Farmers' Chief) before going on to narrate the family's wonderful exploits in agriculture to me.
It was then that I came to know that the "Baale Agbe" title exists in my hometown and that the family had, in fact, produced one in the past.
There and then, I caught the dream and decided resolutely in my mind that in all my "becomings", I must become a farmer and if possible, become the next "Baale Agbe" from the family.
My exposure to sustainable development later, especially as regards climate change and global warming made me decide that my own brand of agriculture would be done in a way that the health of our planet and her people will not be put in avoidable danger.
Principles of Organic Farming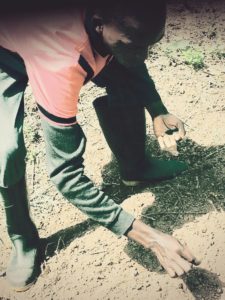 In pursuance of the dream, I recently paid to enroll in a farm internship in one of Nigeria's leading organic farms where I learned the ins and outs of organic farming.
Organic farming is the practice of agriculture without the use of artificial agricultural synthesis or chemicals across the production chain; from site selection, land preparation, seed selection, planting, pest control, fertilization, harvesting, and transportation. The organic practice of agriculture combines tradition, science, and innovation to benefit the environment and her peoples. It is based on the four sacrosanct pillars of; health, care, ecology, and fairness.
The principle of health states that organic agriculture must sustain the health of people, animals, the ecosystem, soil, and plants. Whilst the principle of care, explains the need for us to practice agriculture in a responsible manner so as to jealously protect the health and well-being of current and future generations.
The emphasis on conducting relationships in a way that ensures fairness at all levels to all parties involved (people, animals, and the ecosystem) is the hallmark of the principle of fairness. While the principle of ecology is all about working with, emulating and helping to sustain living ecological systems and cycles.
These four basic guiding principles of organic agriculture show that farming can go beyond sowing and reaping plants. It shows that farming organic is about improving lives, nurturing relationships and sustaining the environment as well.
All I learned on the farm cannot be summarized in twenty long posts, therefore to cut my long story short; I put words about the other highpoints of my learning into the mouths of Prince Charles and Vandana Shiva.
"It is vitally important that we can continue to say, with absolute conviction, that organic farming delivers the highest quality, best-tasting food, produced without artificial chemicals or genetic modification and with respect to animal welfare and the environment while helping to maintain the landscape and rural communities." – Prince Charles
"An organic farmer is the best peacemaker today because there is more violence, more destruction, more wars, through a violent industrial agricultural system. And to shift away from that into an agriculture of peace is what organic farming is doing." – Vandana Shiva