Like Lekki, Like Port-Harcourt – The Reality of Nigeria's Big Cities
After the heavy downpour in Lagos about three weeks ago, residents in Lekki, as usual, were left stranded in their houses as the only route out of the location was through the now flooded roads. The Lagos state government some few days back gave a quit notice to owners of properties blocking drainage channels. This reverts back to a similar post last year on urban planning and its impact on environmental sustainability.
While the effect of the floods in Lagos was waning, a similar occurrence happened in Port Harcourt as residents of the Rumolumeni community in Obio – Akpor local government area experienced same nearly 2 weeks later. The downpour had over a hundred houses submerged in water after over 48hours of continuous rainfall.
The Federal Road Safety Corps (FRSC) office had vehicles within their premises, almost totally submerged in water. Also, the residents of Rumuokalagbo area in the state were in shock as the area was totally flooded and properties worth millions of Naira were destroyed. Some of the residents in the area were left with no choice but to vacate their homes.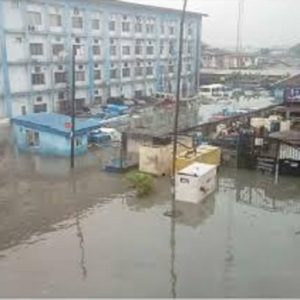 A major cause of the flood, according to some residents in the area was the improper channelling of water into the canal by the company handling the Rumuolumeni – Iwofe road project. Residents claimed they had earlier approached the company to properly channel the water to allow its free-flow but all their efforts fell on deaf ears.
Like Lekki, like Port Harcourt. Until proper measures such as the proper construction of drainage channels, certified acceptable standards of major construction projects, and effective town planning policies are put in place; to tackle long term unforeseen circumstances such as flooding. We may continue to experience flooding for a quite a long time.