How to have a Sustainable Christmas
During the festive season, we are all in a celebratory mood. Visiting friends and relatives, attending all the end of year events and of course shopping for the Big Day itself. So with all this going on, it is unlikely that the words sustainability, environmentally friendly would actually enter your brain. Not to talk of taking any action to reduce our carbon foot print during the festive period.
Which is why we are here!! To suggest small ways that this Christmas would be more environmentally friendly. So here are a few ideas to think about:
Look for second hand gifts
I know know… Second hand ke! Big girls and boys like us! However, hear me out second hand stuff can be really good quality and not to mention easier on your pocket. By buying second hand you are preventing an item from being disposed in a landfill and it is also one less new item that has to be made. Think of all that carbon you are saving. In Nigeria you can head over to wardrobemerchant.com to get some gently used items at reasonable prices
Look for good quality presents
If you can't see yourself buying you or your loved ones second hand goods how about splurging a little more and getting good quality gifts instead. Besides the gratitude you would receive from the giftee, you are actually helping the planet. Quality items will last for much longer and reduce the need to buy a replacement.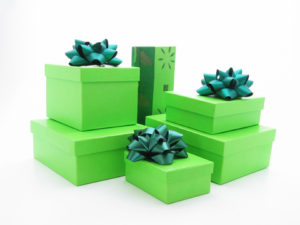 Image courtesy of nrdc.org
Use different wrapping paper
Don't you just love it when a gift comes to you perfectly wrapped? The wrapping paper is beautiful, the edges are crisp and the ribbons are pert and bouncy. The gift looks soo.. good you almost don't want to rip into the gift and find out in the end it was just socks inside.
Well for me wrapping paper, gift wrapping and the ripping of said wrapping paper to get at the gift inside, is all part of the excitement of giving and receiving gifts. However this year instead of buying wrapping paper that will inevitably end up in the trash, try and be a little creative and use some materials around the home.
For example re-use some old shoe-boxes and redecorate them to serve as gift boxes. That 2017 calendar that is soon to become irrelevant can be used as gift wrap. You can even use that extra piece of material from the aso ebi you sewed this year as gift wrap. Be inspired and get creative.
                                                                    Image courtesy of greendiary.com
Make your own  decorations
I remember in primary school days when we used to bring paper and card board to make decorations for our class. It was all part of the fun. Bring that spirit back and get your creative juices flowing. If you have young ones at home, this is a perfect way to get them involved in the celebrations. They can make use of old cardboard from all the delivery boxes you are getting in the house. The previously mentioned 2017 calendar as well as newspapers can also be used.
                                                               Image courtesy of upcycled-wonders.com
These are only a few tips for a more sustainable Christmas. Can you think of any more?
This post was inspired by this post