House of Representatives moves to establish climate change council
A bill aimed at establishing a framework for climate change and also the formation of the National Council on Climate change has been initiated by the House of Representatives.
This was revealed in a one-day public hearing tagged "A Bill For An Act To Provide A Legal Framework For The Mainstreaming Of Climate Change Responses And Actions Into Government Policy Formulation, Implementation And The Establishment Of The National Council On Climate Change And For Other Related Matters.''
The hearing was organized to allow the public make input into measures to be taken to curb the destructive effects of climate change through proper legislation.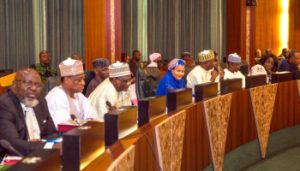 Samuel Onuigbo, chairman, Senate committee on climate change, in his welcome address, disclosed that since its inauguration, it has engaged many Ministries, Departments, and Agencies (MDAs) and other parties in a series of interactive sessions in order to create the needed awareness and build capacity for the needed change.
The chairman went on to emphasize that activities such as gas flaring, bush burning, and many others affect the climate and threaten development across all sectors of national economy. He said that Nigeria is a blessed nation and it is therefore not
acceptable for such a nation to be outpaced by her peers or even less endowed nations in many spheres of endeavors including climate change efforts.
He implored everyone to "remain steadfast and committed to the common drive to bequeath a user-friendly environment to the Nigerian populace especially on Climate Change-related matters."
The senate president, Bukola Saraki, who was represented by the chairman, senate committee on climate change and ecology, Bukar Abba Ibrahim, disclosed that both the House of Representatives and the Senate were in full support of the bill, adding that the initiation and implementation of the bill will make Nigeria and the environment as a whole, a better place to live in.
The Chairman, International Institute of Risk and Safety Management, Eugene Itua, also explained that the proposed bill will enable Nigeria to meet its international obligations and that the bill will provide a legal framework on Climate Change in Nigeria.
There were suggestions that gender equalities be considered in setting up the Council and recommendations that no more than 0.5% of the budget be allocated to the Council.
Agencies with representatives present at the hearing include Ministry of Health, Nigerian Labour Congress, National Population Commission, Nigerian Conservation Foundation, NIMET, NEPAD, Nigerian Meteorological Society, NIMASA, Nigerian Ports Authority, NIWA among others.
The bill is the product of a deliberate effort by the Legislature to fill critical gaps in Legislative mechanism and also to reset the thoughts and actions of Nigerians to create the enabling environment for the public and the private sectors to collaborate in investing massively in ambitious climate change related projects like renewable energy and climate finance.
Source: Premium Times Nigeria