Fatima Oyiza-Ademoh is October's Susty Person of the month
Miss Fatima Oyiza Ademoh is an energy and finance specialist with over six years of experience in sustainable energy project development, bio-energy mini-grid, a nexus between energy access and other components of sustainable development goals. Fatima is a lecturer at Baze University and Project Developer for Waste-2- Watt; a renewable energy project converting waste to biogas and supplying electricity to off-grid communities. She also serves as a mentor in the Tony Elumelu Entrepreneurship Program. Fatima holds a BSc in Finance from the American University of Nigeria and an MSc in Financial Risk Management from the University of Leeds, UK. Fatima is passionate about using clean energy sources to electrify rural Off-grid communities and businesses. Fatima is a 2016 Mandela Washington Fellow; she completed her fellowship at the University of California- Davis placed in
the specialized energy institute focused on energy entrepreneurship and Pathways to Zero Net Energy.
Her passion and work in social entrepreneurship has won her several awards in the past including The Rockefeller Foundation 2012 innovation competition, The 2017 British Council Social Impact Award and the 2017 Young Energy Leader Award by the African Utility Week Industry Awards.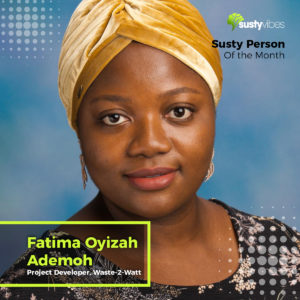 Read below for our interview with the dynamic Fatima. 🙂
You are an entrepreneur, a full-time lecturer and a business development specialist, how do you combine all of this?
Good time management and a loop-sided work/life balance enable me to combine all these activities, I am also surrounded by a very supportive family, friends and partners who enable me to work effectively.
Tell us about Waste to Watt and what motivated you to delve into the renewable energy sector?
I grew up in an environment where neighbouring rural communities are deprived of access to energy services. However, most of the residents in these communities are farmers that grow our food and the communities are
also surrounded by commercial farms that dump their agricultural waste indiscriminately which causes health and environmental hazard. I decided to lead a group of young people to discuss possible solutions to the problem, the problem being lack of access to energy services for these communities and poorly disposed of agricultural waste. My quest to solve both challenges lead to the development of Waste-2- Watt (W2W). Waste to Watt converts agricultural waste into biogas which is used for electricity generation.
Everything you do appears to be linked directly or indirectly to agriculture, is there a story behind your passion for agriculture?
My family owns a farm and my dad was an agricultural scientist. Since I was a kid I have been involved in farming; from owning my own little piece of garden and planting vegetables to creating Youth Agro Entrepreneur; which is a training centre and social enterprise incubator that teaches youth agricultural practices and business skills to support the development of youth-led agricultural enterprises.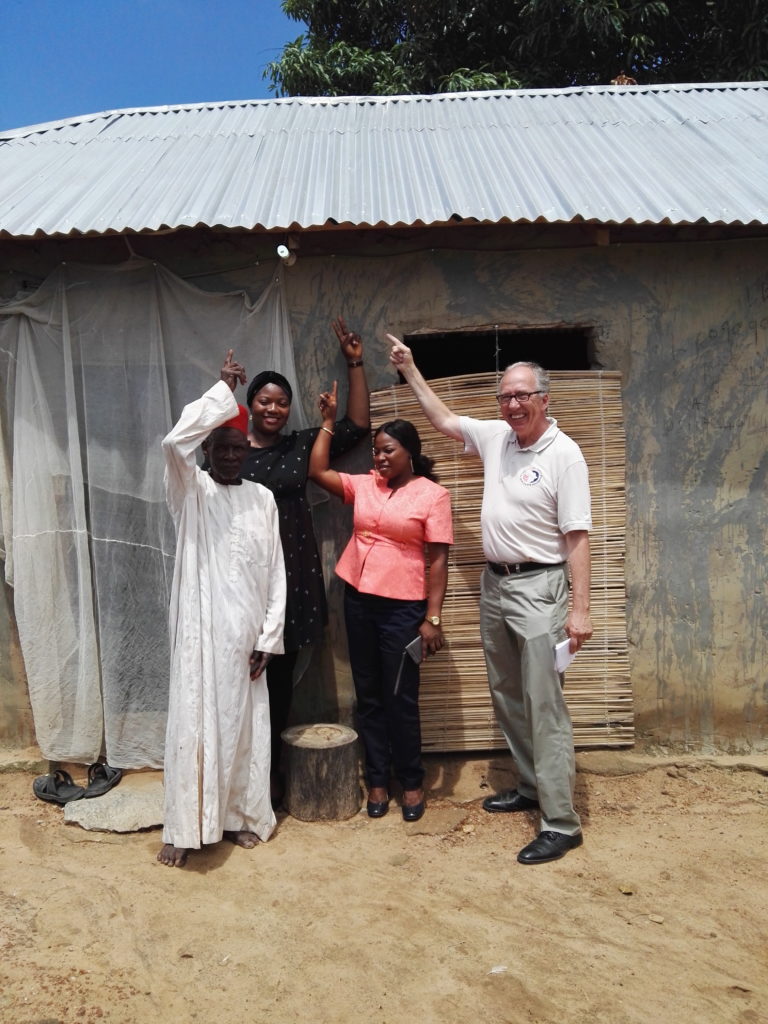 Getting $150, 000 financing for Waste to Watt is no small feat. How easy was it and what are some of the channels that entrepreneurs can exploit to finance their business?
Raising financing is never easy but having a good project and team makes the process easier. We raised an initial amount of $100,000 through the Power Africa Off-grid energy challenge for our pilot project and once we were about completed; our financing partners increased the funding to $150,000 which enabled us to finance the second project. For entrepreneurs out there I encourage them to exploit different avenue for financing; i.e equity, debt and
grants & bootstrapping, as long as your business can demonstrate it provides value to a market that has purchasing power the financing process becomes easier.
Away from you, how committed do you think the Nigerian government is towards renewable energy and what would change if our government keys into it big time?
The government has shown some level of commitment to Renewable Energy development especially within the last three years with the passing of some policies, targets for the RE sector and signing of Power Purchase Agreements
with solar companies. However, more government support is required in the form of policy clarity & consistency and proper implementation to provide a level of confidence for the private sector to really key into and invest in the RE sector. If all said is been done, I believe the sector will experience unprecedented growth especially in the areas of solving the challenges of energy access in off-grid communities.
National grid or mini-grid system; which has more potential to solve our energy crisis?
Definitely mini-grids, an estimated 45% of Nigerians do not have access to electricity, the most efficient and cost-effective means of electrifying this group is through mini-grids. The mini-grids will also allow for modernization of the grid system to smart grids and increase the utilization of renewables.
Did studying in the UK for your Masters degree contribute in any way to your success? 
Yes, the University of Leeds provided me with the opportunity not just to study but also the opportunity to engage with my community. While at Leeds I joined the Enactus student group, having been a member at my undergraduate university it was an easy decision. I was a member of the BEEP team and our project goal was to make businesses in the local Leeds area more energy efficient in order to save them money and benefit the environment. At the end
of my study, I had developed the skill of performing energy audits for businesses and proposing energy saving techniques so I left Leeds with an MSc in Financial Risk Management and enthusiasm for energy-related issues.
I intend on starting a doctorate degree next year and keep solving problems especially those related to energy access.
What are your favourite SDGs and why?
All the SDGs are equally important and interconnected to ensuring shared prosperity for all but my work concerns goal 7 which is " Ensuring access to affordable, reliable, sustainable and modern energy for all"
What are your thoughts on sustainable development in Nigeria?
Business and private sector will play a key role to ensure economic, social and environmental sustainability in the development of Nigeria by aligning their corporate responsibility strategies with the sustainable development
goals and ensuring they actively create impact in the three dimensions of sustainability by adopting the triple bottom line accounting framework that combines consideration of traditional economic measures with environmental and social dimensions to measure their firms' performances in achieving sustainability.
How can people reach you to learn more about your work?
Email – [email protected]
Call – +234 805 682 9957
Twitter: @AjimaWaste2Watt  or