Of Dreams and Ambitions in Ogoni
"Am going to further my master's degree in Education before 20 runs out. This ambition must be done by all means."
The above was what I saw written on the wall of a closed down bakery in Goi, an oil devastated and deserted Ogoni town in Gokana Local Government Area of Rivers State. Immediately I saw the caption, my emotions almost gave me away. I couldn't resist the urge to take a picture of the cathartic "graffiti". The moment I saw these written words was definitely my own personal high point of the AAMEI sponsored field trip.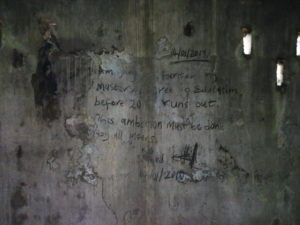 A lot of thoughts continue to run through my mind. How the young person, despite all the ruins and devastation around her/him could still have the courage to dream; could still remain unbeaten despite the fact that her/his birth place has become a wasteland where nothing can grow. Despite the fact that she/he drinks oil polluted water, eats toxic fruits and sea food. I only hope and pray that her/his young, ambitious spirit would not be broken when the reality of her/his existence dawns on her/him IF he/she is fortunate to attains adulthood. Yes! IF he/she is fortunate to attain adulthood because everything in Ogoni reeks of death.
Do you know that life expectancy in Ogoni is forty one (41)? According to the high chief of the oil devastated and deserted Goi community, an average of five people die in Bori every week. So God help the young person who wrote that graffiti if he/she lives old enough to actualize the ambitious dream. God help him/her if reality, poverty, frustration and anger don't lead her/him to vice.
The food, the water, the environment as a whole is contaminated and in ruins; all thanks to the activities of oil companies that connive with our government to continually desecrate Ogoni with impunity. Our government and these oil companies sit atop ginormous stacks of petro-dollars; they refuse to put the riches gotten from under the people's feet in their hands (a current and opportune example is the Shell/Eni/Malabu case).
Not long after the graffiti incident, I was wandering by the spoilt waters when I saw a young boy covered in soil and oil moving around the water and picking crabs. I walked up to him and started a conversation. The young man is named Tombari. Tombari is twelve but he doesn't go to school every day. Tombari couldn't talk to me in English; we communicated in Pidgin. When I asked why he doesn't go to school every day, he said his teachers don't come to school; that even when teachers come, there are no teaching and learning materials. So Tombari has resorted to spending his days with friends by the polluted waters of Goi picking "crude oil drunk" crabs to eat. When I challenged the High Chief as to why he looks on while the children pick and eat these unhealthy seafood and crops, I fought back tears when he said "What else will they eat? We know what we are eating is unhealthy but what other choice do we have? We know it causes sickness and death but we are not afraid of death. When it knocks, we don't even struggle with it, we just let it take us."
What do you think the future holds for Tombari and other Ogoni young boys and girls like him? What will they grow up to become even if the sickness and death that march the streets of Goi and swim in her waters spare them.