Dear Daughter (I Hope)
And how you can write your unborn children letters
Dear Daughter,
If you're just reading this I hope it's not too late,
To save the world and make all of it great.
I hope Iceland is still green and Greenland still has ice.
That you're thawed by this letter and that the sun still plays nice.
I hope you know what the floor looks like without a flood.
I hope you have a job and it's not working, for a mob,
I hope you have enough to eat and drink
And a roof over your head and a bed to rest and think,
I hope that your head is above clean water.
I hope your dreams come true or, rather,
I hope your life still feels like yours;
And that your government is, for good, a force.
So that you, in your head and mind, feel free.
I hope that you have good friends,
And that you're not depressed, wasting time contemplating being dead.
And that if you are, I hope you make amends,
So your smile is not like a pressed loaf of bread.
I hope that you have never been raped.
And if you have, it wasn't taped.
And that you got justice and found peace.
I hope you look like me but not breathe like me,
(Cause I breathe like a dying chicken and that's on a good day).
So I hope you breathe without smog.
I hope you have a pet, a cat or a dog;
Or an elephant or a tiger, I'll be happy that they're still existing.
So it's ok, I will come visiting
I hope you can even read this and maybe write a reply.
I hope you can take an evening walk and actually see the sky.
I hope you have someone to walk with as a plus.
I really hope my generation does not fail yours,
And that if it does. that you're not too bitter.
I hope that you don't litter and that you recycle,
And what you ride uses cleaner energy than a bicycle.
I hope you can speak Igbo, I just do,
I didn't give you an Igbo name just because it's fun to.
I hope that you're a SustyViber,
So wherever you are you go to hangouts.
I want to do more than hope,
So now I'll drop this pen and go fight the SDG bouts.
Love,
Otōsan
I presented this poem at the SustyVibes hangout weeks ago, and this is a refined version.
I am many, many years away from having a daughter, all other things being equal and safe. One of my major motivations for wanting to achieve the Sustainable Development Goals (SDGs) is that I know I will have children someday and I don't want to be mute when they ask me why the world is a shitty place (hopefully it isn't).
That is why from The Nigerian Children Initiative's #MyGlobalGoal Essay competition to a Vacation Bible School for children in the Church where I worship, I spent most of this last week teaching children and teenagers about the SDGs, telling them not to litter and making sure they know recyclers they can recycle with, with My Recycle Story. (I'll write about the full experience soon).
I also told some of them about the upcoming #StareDownonPollution campaign with the #YabStreetConference,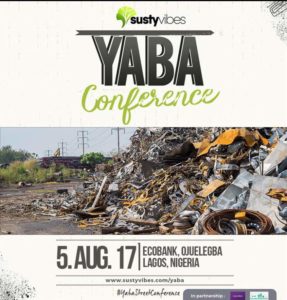 For me these have been baby steps but since SustyVibes is a social enterprise redefining Sustainability Advocacy for millennials in Nigeria, telling children, teenagers and everyone about sustainability is a big deal for me as a SustyViber.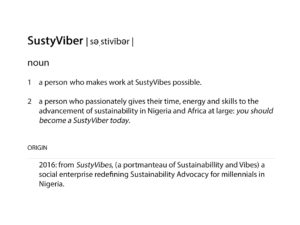 You should write your unborn children letters like this too, but they don't have to be words, instead, they should be your actions…