American Women's Club Event for Earth Day 2016
I was privileged to attend the Earth Day event organised by the American Women's Club Lagos on tuesday, 26th April 2016. The American Women's Club comprises of elite American expatriates living and working in Lagos. The event was primarily aimed at celebrating earth day; discussing sustainable living plans and also the various causes members could join to promote mother earth.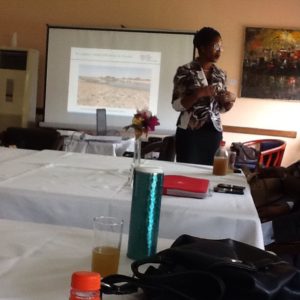 Dr Ijeoma Nwangwu, who is the director, First Bank Sustainability Centre of the Lagos Business School and also a member of the club shared a brief presentation on Susainability and Earth Day, she discussed the significance of Earth Day 2016 with the signing of the Paris Agreement, she explained the various ways the First Bank Sustainability Centre helps to improve CSR and Sustainable impact projects of some Nigerian companies.
There was also a panel discussion which comprised of experts in their field; Desmond Majekodunmi, Reverend Sister Magareth Ogunlade and Dr Joseph Onoje. The session was moderated by Dr Ijeoma.
Dr Desmond, super susty person and founder of LUFASI park, appealed to the women to help protect the earth as the real hope of the earth lies in the hands of the feminine gender (Ecofeminism!), he stressed this point by citing the country- Germany who is ruled by a woman, has a strong economy and is very big on renewable energy.
Reverend Sister Magareth, a top organic farmer said that modernization is not necessarily by replacement but by improvement, she warned of the deleterious effect of consuming chemically processed foods and that the negagtive processes though happening slowly in the body could lead to cancerious diseases if not checked early.
Dr Joseph Onoje, an expert ornitologist(specialist in the study of birds) with the Nigerian Conservation Foundation explained the importance of studying birds as they are excellent bio-indicators of the environment; speaking about the environment, he stated that we have an information and knowledge gap and so many people are unable to recognize the impact of the environment on their lives, "the number one unit of production is the environment" he said.
It was indeed an insightful and engaging event as so many questions were asked on preferred sustainable/environmentally friendly products to purchase, recycling options to explore and avenues for more environmental education.
The panel session ended with presentation of gifts – handy plants grown on used plastic bottles, which was given to the panelists.
My invitation was courtesy of the First Bank Sustainability Centre.