Access Bank wins Outstanding Business Sustainability Achievement Award 2016
Access Bank Plc has emerged overall winner of the prestigious Outstanding Business Sustainability Achievement Award 2016.
The award was presented to the Bank in Karlsruhe, Germany's most sustainable city, at an award ceremony attended by global CEOs, senior executives of winning institutions and top German government officials.
The award recognises the bank's outstanding success in incorporating economic, social and environmental aspects into its corporate strategy and business processes.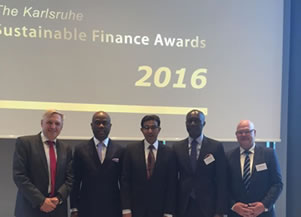 A statement by the bank's management at the weekend said the prestigious award was conferred on Access Bank, making it the first African financial institution to win the award in recognition of its ability to holistically embed sustainability across the financial institution.
Speaking at the presentation ceremony, Herbert Wigwe, Group Managing Director/CEO of the bank, said: "Winning the Outstanding Business Sustainability Achievement award is a validation of Access Bank's commitment, leadership and practice in sustainability.
"For this, I would like to thank the board, management and staff of the bank. We are delighted to be presented with this highly coveted award. It is a testimonial to the unwavering support we have enjoyed from customers over the past few years and the hard work we have done in line with our five-year strategy to become the world's most respected African Bank.
"At Access Bank, we believe our operations, loans and project finance must have the barest environmental footprint. Indeed, we believe the net impact of our activities must be positive on the environment. As such, we are champions of climate change mitigation and adaptation."
He said that the bank would be further motivated and maintain profitable growth while embracing sustainability.
The conveners said the 2016 awards focused on honouring organisations that have made outstanding contributions in the field of sustainable finance, stimulated the interest of financial institutions and other stakeholders in integrating sustainability in their core business strategy.
It also recognised candidates who promote growth of sustainable financial instruments and markets worldwide, particularly in the fields of green finance and investments, financial inclusion and social finance, and green equity and holistic integration of sustainability in the financial services institutions.
Congratulations to the Access Bank Sustainability team and the entire management as for being the first African bank to win this global award!
Story culled from Access Bank