5 reasons we are rooting for RecyclePoints to win big at the Chivas Venture Competition
Why are we rooting for RecyclePoints to win big at the Chivas Venture Competition? If you really need to be convinced, read up.
1. We are sensible.
Really, sustainability work in Nigeria is getting global recognition and our votes can support them to win a large chunk of $250,000 to expand their recycling venture into many parts of Nigeria. It makes sense to be the hype man for this competition – have you voted? Click here to vote!
2. Our #StareDownonPollution campaign will become even more efficient
Because the more people can recycle – the less they'll litter. We understand that one of the reasons a lot of people litter is the small scale at which recycling is done in these parts, but what if it could be better and bigger?! More money with RecyclePoints will make this happen – the world is watching them and we are counting on you to help us* bring the money! If you have not voted, do so here – but also share with you friends after voting!

3. This is the right thing to do
Seriously, it's not every time that you get opportunities like this to do something good for an indigenous brand, for the environment, and for Nigeria – please vote today and for the next three weeks so we can smile at the end.
4. RecyclePoints loves SustyVibes!
Chioma Ukonu was among our first ever Susty persons of the week; they have supported most of our movie screenings as sponsors; helped to push our brand on social media and would just not stop showing us love. So, if you believe in what we do at SustyVibes, then you should help a brand that has invested so much in seeing us win.Vote here now.
5. Everyone is winning, the right way
With RecyclePoints, you are not just helping their* business grow; you are helping your business grow! Why? Because with this expansion; you can literally follow up with the growth and watch them become recycling partners with you. In the business of recycling, you get good value for your waste. See Mrs Nasifat Lawal for example, she used her earned recycle points to redeem beverages to start a retail store, she got enough merchandise to start a business – she got them from recycling with RecyclePoints!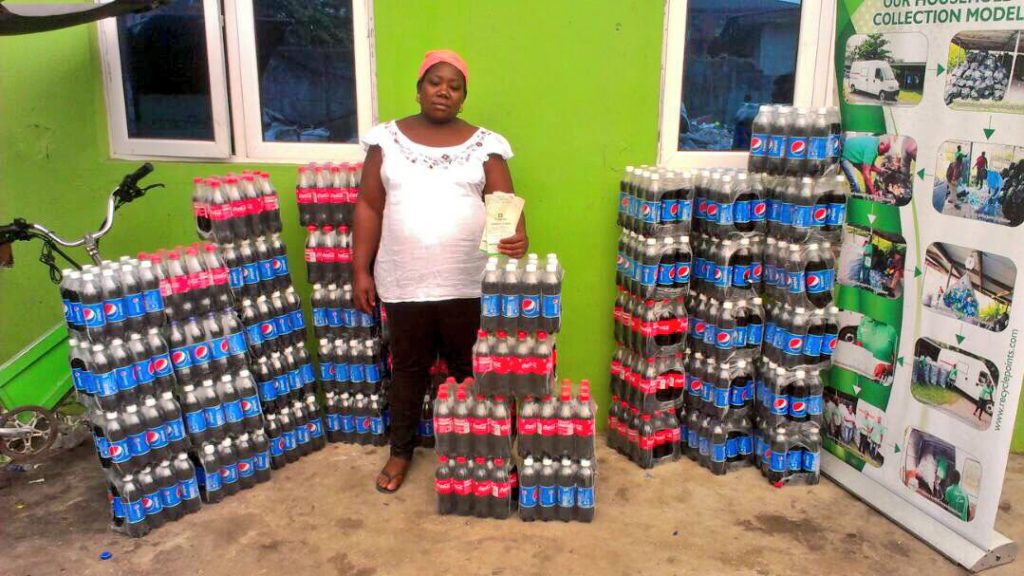 Learn more about the RecyclePoints model here
About the Venture
Every year, Chivas Venture invests $1million in start-ups that are creating positive change and a better future. Since the launch in 2014, they have been inspired by the nearly 6,000 entrepreneurs who have applied, a new generation that is doing well by doing good. Read more here.
How to vote:
It takes just 2mins to vote, below are the steps:
Step 1: Click
https://goo.gl/k1jTmH
Step 2: Click "Connect to Facebook to Vote".
Step 3: Fill in your Facebook Login Details to authenticate yourself.
Step 4: Click "Confirm Vote"
Step 5: Click the Facebook or Twitter icon to share with Friends